Come Dive The Best Scuba Diving in Hawaii with Us
Our guide to the best scuba diving in Hawaii covers only the best dive sites. This site is easily one of our favorites and one of the best dives in Hawaii let alone the Big Island of Hawaii. It's not easy to get to and it's not easy to dive, with currents sometimes reaching up to 3+ knots. But when it's calm it is fantastically stunning diving!
Why is it Called LAX?
LAX dive site is home to a number of awesome features that make it the best scuba diving in Hawaii. Let's begin with its namesake LAX. LAX is the acronym for the Los Angeles Airport. If you've ever been, you may have noticed the large spaceship looking dome in the middle of the airport. This structure really stands out and wouldn't you know so does the one at LAX dive site! It's a massive lava dome with multiple arches that tower overhead. Sometimes the resident school of Mu (bigeye emperor) fish will come join you for a look. It's fun to swim in and out of the massive coral archways.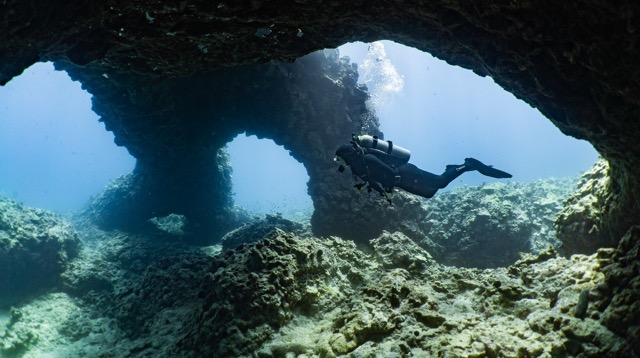 ---
Here's what makes LAX dive site stand out from other sites:
Amazing Coral
Strange reef structure
Shallow dive (less than 45ft)
The Downsides
Visibility is often less than ideal
Strong Currents on occasion
---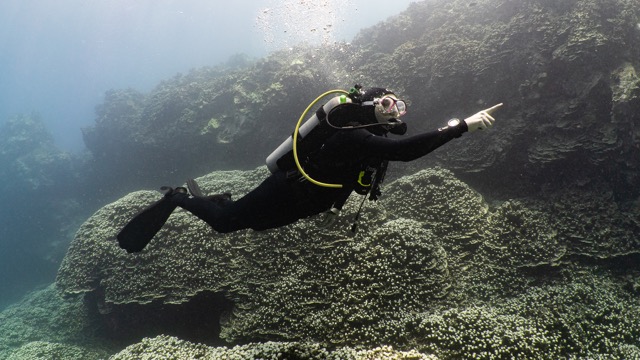 LAX Dive Site Detail
This site is located 25 minutes drive by boat from Honokohau marina in Kona. It's one of the many Big Island dive sites we visit on our Premium Advanced charter. There is no mooring here so if the current picks up it can be rather tricky to anchor in the sand here. We typically have the captain keep the boat nearby so they can come retrieve you when you surface. There is plenty of sand surrounding the site but the site itself has some of the most amazing coral on the entire island! This is what puts it on the list for the best scuba diving in Hawaii.
Rose Gardens
On the most southern end of the site are what can only be described as some of the most prolific and gorgeous coral on the Big Island of Hawaii. These coral gardens stretch like golden fields of wheat for many acres. The coral infiltrates walls, canyons, arches and swim throughs Kona is known for. This mixture of interesting topography and gorgeous coral makes for a stunning experience. Check out the video to see what we mean.
The coral that covers the rose gardens in a type of coral in the hard coral genus Montipora. It's the species capitata. Montipora Capitata is unique in that it has 2 forms. A plate-like
Visibility
While the visibility is not typically that great here compared to more southern sites in Kona it's still usually sufficient often between 25-40 feet (7-13 meters). This is because there is a lot of sand nearby in the area. The swells can kick the sand up impacting the water quality.
Depth
Typical of scuba diving Big Island northern coast, the average Dept of this site is rather shallow around 38 feet with max depth of 48 feet (15 meters). The bottom is the sand with many reefs breaking up the bottom sometimes forcing the diver up a bit if you want to get adventurous.
Current
While Kona diving is typically pretty mellow this is one of the few sites we visit where current should be taken into account. This is because the current can get pretty stiff reaching up to 3+ knots. This can make diving it from shore or even from boat a challenge. It's important to check the current before jumping in here.
LAX Structure
The "LAX" structure is in the northern end of the dive site and stretches approximately 6 feet wide and 20 feet tall. It's quite large and very unique. There really isn't much else like it in Hawaii. The structure is covered in coral and you may spot critters protruding from it's walls. We spotted a whip coral with a goby laying along it's length.
Wildlife
This is not typically a site people dive for the wildlife. That being said on our last visit we saw loads of juvenile fish including, boxfish, yellow tangs, goatfish, manini (tangs), and more. The fish like to hide in the rose garden coral for refuge.
One of the common sightings here is the massive porcupine fish that often hides under an archway in the middle of the site alone with a school of snapper and some menpachi (squirrelfish). You may also find the occasional eel, or a hunting party of an eel, jacks, and yellow spot goatfish (Moana Kali) sometimes joined by an octopus. They work together to flush out reef critters.
Another resident is the large school of Mu (big eyed emperor) fish numbering in the 30-40. They are large fish with a big brain. They are incredibly smart and will only come close to scuba divers. They are very weary of freedivers and even more so of spear guns.
How to Dive LAX
Our Premium Advanced Long-Range dive charter can get you to LAX dive site if the weather and current is cooperating. This tour has certain requirements so make sure you qualify before booking.
More of the Best Scuba Diving in Hawaii
To see more stunning sites like this one check out the Best Scuba Diving in Hawaii Guide. Or to dive a site like this book a Kona diving tour with us. Kona Honu Divers is the top rated and most reviewed dive company in the Pacific.