Where to Find the Best Scuba Diving in Hawaii
Most of the best scuba diving in Hawaii is here in Kona on the Big Island of Hawaii, but there's a few other spots as well on the other Islands. Here we highlight some of the best scuba diving Hawaii has.
Kona Honu Divers is Hawaii's top rated and most reviewed dive company and received top honors as Reader's Choice in Scuba Diving Magazine's annual reader's choice poll. Byron Kay is the owner of Kona Honu Divers and loves all things underwater. He's been breathed swimming underwater since he was 1 year old and being underwater is his happy place. He also owns 2 of the top rated snorkel and freedive companies in the pacific Kona Snorkel Trips & Kona Freedivers.
In Kona we are a bit snobbish in our diving habits. We're so used to great visibility, almost no current, and minimal swell that when we try to dive other islands or during less than ideal days we get fussy and whiney.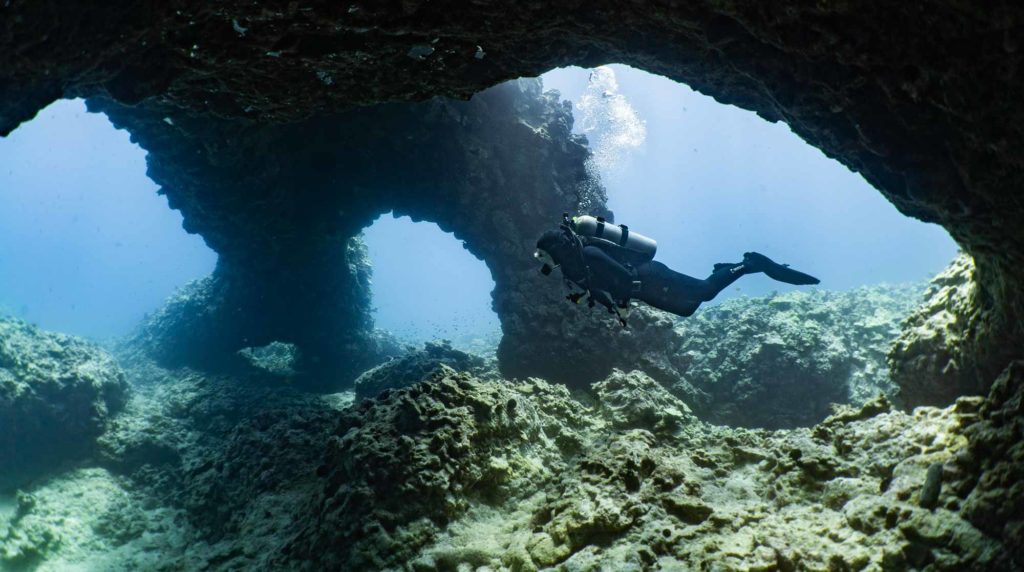 ---
The Best Scuba Diving in Hawaii
---
Kona – Big Island of Hawaii
Kona is the capital of the best scuba diving in Hawaii. This is because the Big Island of Hawaii is home to so much coastline and has so much going for it. Most of the top dive shops in Hawaii are located here including Hawaii's top rated and most reviewed dive shop Kona Honu Divers. Not only are there many miles of coastline hosting some of the best coral and most interesting topography, Kona's side of the Big Island also has the best visibility and nicest ocean conditions of just about anywhere in the Hawaiian Islands. It's these combination of factors that makes scuba diving here so good. It's also the reason so many divers keep coming back year after year to dive here.
One of the best things about scuba diving Kona is the variety of marine life. Not only do we have an abundance of reef fish but there's a ton of little critters to hunt for as well as large animals to amaze and surprise the unexpectant diver. We've had dives where you can literally see a whale, tigershark, and manta ray all on the same dive! Don't forget about the world famous manta ray and blackwater night dives either. When you put it all together Kona is by fare THE best place to dive in Hawaii. Simply nothing else compares.
The Best Kona Dive Sites
---
LAX Dive Site
We love LAX because it's shallow, has plenty of amazing coral, and it's got a really interesting lava arch feature. While not reachable from shore you can get there by boat. Like many more remote sites the current can be an issue so keep that in mind when committing to this site. Click here to learn more about this amazing dive site.
We call the coral the Rose Gardens because it forms flowery florets that are pink in color and just simply gorgeous! There's also rolling fields of this coral
Touch of Grey
One of the coolest dive sites on the Big Island we love coming here. Not far from LAX (above) this site is super unique among scuba diving Hawaii sites. A deep arch offers refuge for a school of baby grey reef sharks that like to linger here. Large schools of fish aggregate in this spot making it a dramatic dive especially when the current picks up!
Nudi Madness
One of the few truly exceptional shore diving Big Island sites this dive is exceptional for finding the little things. It's important to keep in mind this dive is geared for critter hunting. While the entry may be easy and the depth relatively shallow the visibility is often not great. What is great is all of the nudibranchs, octopus, eels, and even the occasional frogfish. Watch the video to see this site on a nice calm day and why we feel for critter lovers this is some of the best scuba diving in Hawaii.
Manta Heaven
The manta ray dive Kona has is the only one like it in the world. Simply put it's like a ballet mixed with a silent rave underwater. The manta ray night dive is one of the biggest attractions on the Big Island and Kona diving would mostly be a daytime event without it. These gentle giants come within inches of divers as they rest on the bottom. With high powered lights shining up from below it's a show like nothing you'll ever see anywhere else.
Click here to Book Now while spots last!
The World Famous Blackwater Dive
One of the most unique dives on the planet the Black water dive was developed here in Hawaii and perfected in Kona. While it's beginning to become more popular in other spots there's simply nowhere like Kona diving for this unique and wonderful dive experience. Imagine hanging from a boat by a line drifting at night in thousands of feet of water. With a high powered flashlight in had you'll experience the world's largest migration that happens every night as critters from the depths come up from below.
Kona Honu Divers has the world's premier blackwater dive expert Jeff Milisen leading these dives. He wrote the book on the topic and has won many awards for his photography. Due to high demand and limited availability these dives book out months in advance so reserve your spot now!
---
Niihau – Kauai
One of the most epic dive spots in Hawaii is Niihau. Although the actual diving doesn't take place on Niihau itself. The diving here is on a small rock island called Lehua Rock that is home to a colony of protected seabirds. There are many 'dive sites' on Lehua rock each with it's own strengths. Typically divers will start their tour at vertical awareness (the deepest) and end at a shallower spot. While the rest of Kauai isn't much to write home about Niihau deserves a spot on any diver's bucket list for the best scuba diving in Hawaii.
Click here to learn more about this dive and the best times of the year to visit.
Diving is great here because of all of the marine life that lives or visits here. The barren rock faces make for dramatic scenery underwater. There's very little coral here with a few cauliflower corals here and there. The marine life more than makes up for the somewhat barren landscape. Humungous lion fish, pelagic fish, large schools of jacks, trivially, black coral and many monk seals are just a few of the underwater highlights.
Trips are usually 3 tanks and can go from 5am till 6-7PM depending on ocean conditions. While the trip there is not too long it's the way back that can be a bit brutal when the swells inevitably pick up.
---
Molokini Crater – Maui
While not located on Maui itself monokini is a small uninhabited crater that is one of the biggest tourist hotspots near Maui. Many snorkel boats will visit here but they often stick to the middle of the crater where the water is shallow and more protected from the open ocean. This makes for mediocre snorkeling. What most don't know is that around the corner things change dramatically. The back side of Molokini is wild and drops off quickly. This means you can easily exceed your maximum depth. The swell and current can be intense so be ready! Because of it's exposure to the open ocean it's not uncommon to see larger marine life. Pelagics may come cruising through for a look.
Click Here to Book this Dive before spots fill up for this rare treat!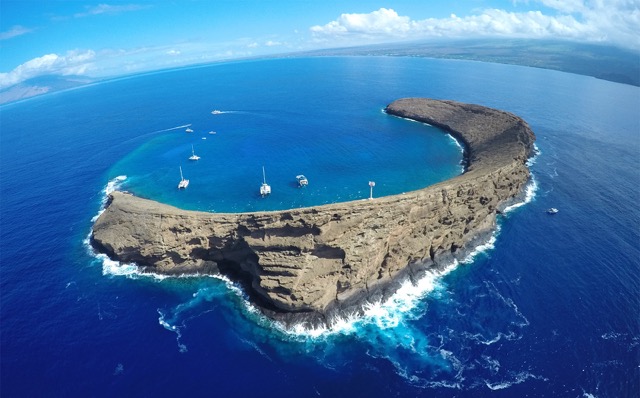 ---
Backside of Lanai
The backside of Lanai is one of those rare spots. Like many of these sites it's not easy to get to but once you arrive it's pure magic. One of the things that makes this site so good is it's remoteness means it's relatively untouched and it's what makes it one of the sites for the best scuba diving in Hawaii. Excellent visibility and healthy corals are just the beginning. Cathedrals is the most popular destination here. Like Kona it has some really great topography with lava canyons, arches, caves and the reason for the name the cathedrals which are caverns with skylights above giving the space an awe inspiring presence. Click the image to book a tour with Dive Maui.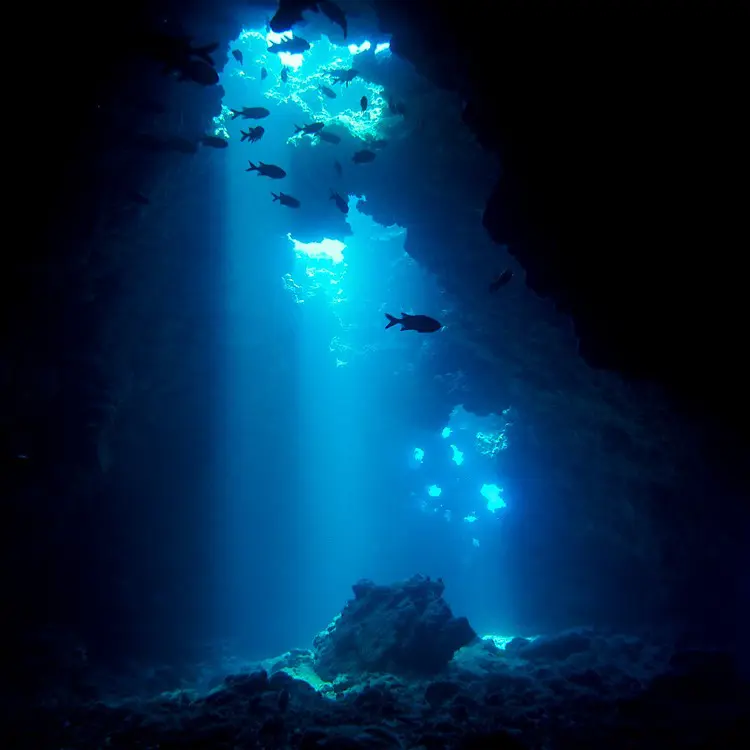 ---
So Many Great Dive Spots so Little Time!
To visit these sites you're going to need to book in advance because they are typically in high demand and places like Niihau are only suitable for diving in the summer months. You can put together a dive package with Kona Honu Divers. The more you dive the more you save! We also offer free nitrox for nitrox certified divers.
Since Kona has so much great diving and is arguably the capital of the best scuba diving in Hawaii why not spend your time here with us?