Round up the family and drive into the heart of Kona where you'll board Kona's largest luxury catamaran, the Body Glove. Cruise from beautiful Kailua Bay en-route to historic Kealakekua Bay where you will learn the story of Captain Cook's final landfall with music, food, drink and dramatic scenery. Book ahead as this opportunity tends to sell out in advance.
Who is this for?
The historic dinner cruise is great for all ages. If you like to eat, drink, learn about Hawaii's history and culture, watch the sunset, and listen to live music, all while cruising the open seas, you will love this Kona dinner cruise.
The Body Glove is Kona's largest boat and is considered a luxury catamaran, so it can handle most ocean conditions easily. The space on the boat means your Keiki (children have space to roam) the height of the boat over the water makes for a great view and allows easy spotting of whales, dolphins, and other marine animals commonly seen in Big Island waters.
This is the only Kona dinner cruise available on the Big Island of Hawaii. The Body Glove is fully shaded and offers expansive outward views with plenty of seating and railing to lean against while you take a sunset selfie. Perhaps you can catch a glimpse of a green flash?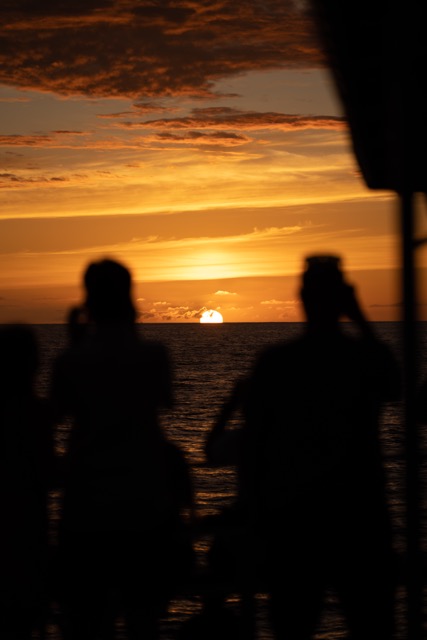 What's included?
One complimentary tropical fruity beverage or octal of your choice
Appetizers
Historical talk
Dinner of Hawaiian Cuisine
Sunset views and live music
What Will we See?
You'll begin in beautiful Kailua bay and downtown Kona. As you cruise south Kona's beautiful coastline will follow along. There's a chance to see whales during whale season or many other open ocean creatures in cladding dolphins are seen during these tours.
As you head south you'll encounter beautiful Kealakekua Bay home of the Captain Cook Monument. This is one of the most spectacular sites on the island with a unique and tragic story. This Big Island dinner cruise has so much to offer between food, drink, music and story there's something for everyone.
What Kind of Food is included?
Appetizers
Big Island Grown Macadamia Nuts
Local spinach, strawberry's, feta cheese and candied Mac nuts with strawberry vinagrette.
Mains
Braised Shortribs with a Kona Coffee Rub
Mashed Potatoes served with Kona coffee Demi-Glace
Fresh baked coconut dinner rolls
Vegetarian Option (must be reserved in advance)
Thai coconut curry with Big Island grown sweet potatoes
Dessert
Chocolate Torte
Kona Coffee
What is a Green Flash?
A green Flash is a color change that occurs when the sun dip below the horizon. It's called a flash because it happens very quickly and is an effect that is most apparent on a clear day. The suns rays bounce off the atmosphere causing the effect. We see them frequently in Kona when the skies are clear year around.