Have you already tried Discover SCUBA Diving and you love it? If you are looking to learn to scuba dive in paradise, we can take you through your course! With it's clearer, calmer, warmer water, colorful reefs, fantastic marine life, and superb underwater lava features, Kona is one of the best places in the world for new divers. Our Kona scuba certification course is perfect for starting your scuba diving journey on the right fin.
Once you've completed the PADI open water diver course with us you'll be able to travel around the world to scuba dive or join us on one of our many amazing dive experiences like the manta ray night dive.
Prerequisites
Age 18 and up
Able to Swim
Able to Speak and Understand English
Completed Medical Questionnaire
You MUST have medical coverage or dive accident insurance
Though not mandatory, Kona Honu Divers always recommends that interested divers try scuba diving via a Discover Scuba Diving experience, before investing in the full 3-day course.
Ratios:
While PADI allows 8 students per instructor we believe that you deserve more attention than the other dive shops give. This means you'll get more time working one-on-one with the instructor. These ratios are also set to provide the safest learning environment possible. While our safety standards are stricter than the industry standards with the added benefit of having a smaller, more exclusive, class size.
What is included?
Free Premium Gear Rental (Tank, Weight, BCD, Regulator, Dive Computer and Wetsuit)
10% Student Discount for Mask, Snorkel, Fins (Students can rent or purchase these)
Confined water day
4 Open Water Dives
---
Why take your course with Kona Honu Divers?
Become a safer, competent, confident diver.
By taking your Kona scuba certification course with Kona Honu Divers you will receive a higher level of education and attention than through your typical dive center. This is because our dive company puts a higher emphasis on safety and quality. This is what differentiates us from the rest of the dive operations.
We take the time to ensure you learn how to become a safe, and competent diver. It is also why we are constantly receiving the Scuba Diving Magazine reader's choice survey award for the best dive operation in the Pacific. In 2024's reader's choice survey we received the most votes in the education category beating out all other dive operations in the Pacific & Indian Oceans.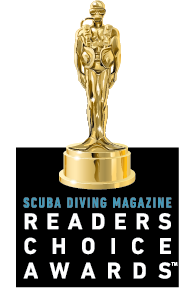 Why Get Scuba Certified in Hawaii?
Hawaii is one of the best places in the world to take your scuba certification.
Reasons to do your scuba certification in Kona, Hawaii:
Warm Water
Clear Water
Calm Seas
High level of Safety
Quality Operations
Shallow diving
Warm Water
The water temperatures in Kona on the Big Island of Hawaii vary from 75°F (24°C) to 84°F (29°C) with the warmest months being in August – October.
Clear Water
The visibility in Kona in particular is superior to the other islands. Kona's relative newness (still active volcano) means we have less sand, This is particularly the case near Kona. This means there's less stuff clouding up the water and impacting visibility.
On a typical day we can have 30 – 80 feet of visibility. 25 Feet is a bad day and 100+ is a very good day.
Calm Seas
Kona is well protected from the large swells that come in the winter from the northwester Pacific Ocean. This is because the other islands block or create a shadow that makes the Kona coast less susceptible to the massive waves that make places like the north shore good for surfing. So while the surfing here is not so good the diving is exceptional.
High Level of Safety
Hawaii, being located in the United States, has more stringent insurance requirements. This means operators will be held to a higher standard than those in other countries. Additionally, Kona Honu Divers was awarded the top dive Operation in the Pacific for our high level of safety in a Scuba Diving Magazine reader's poll. Being that our #1 core value is safety, we strive to achieve the highest level of safety available in the Unites States.
When it comes to scuba certification Hawaii has many options, but none at the level of quality offered by Kona Honu Divers.
Quality Operations
Dive operations can be a bit sketchy at times. A boat that belches smoke, a divemaster that shows up late with a stained t-shirt and a bad attitude. If you've dove enough you've seen it all.
Hawaii tends to have a higher standard when it comes to dive services. Divemasters are more pro-active and gear and boats are often nicer as there is more competition for diving services.
Kona Honu Divers strives to offer the highest quality of diving in the Pacific. It shows in our multiple awards for top dive operator in the Pacific by Scuba Diving Magazine readers and our top rated and most reviewed google status.
Shallow Diving
Kona has some of the best diving in less than 30 feet of water. Colorful reef. Large schools of snapper, goatfish, butterfly fish, and tangs means you'll have plenty to look at and long bottom times.
---
Frequently Asked Questions
What is the Process?
Your scuba diving journey begins from the comfort of your home. With our direction you'll sign up for e-learning and begin the education process. After eLearning is complete you'll be ready to take the plunge. Once you join us in beautiful Kona, Hawaii we'll get you familiar with your scuba equipment and take you to a confined water session where you'll learn how to use the gear and practice some of the important skills needed to become a competent and safe scuba diver. Next, you'll join us for either 2 boat or shore dives where we'll show you the finer points of gearing up, buddy checks, and how to get in and out of the water. After 2 dives and some skills practice you'll have the night off. The final day of the course will take place on the Honu One our 46′ custom dive boat. This is your chance to experience how great diving from Hawaii's best dive boat can be.
How to complete a PADI Open Water Certification Course
Book your course online with us
Complete the e-learning 8-12 hours
Fly to Kona
Join us at Kona Honu Divers for a confined water session
Complete your first 2 dives from shore or boat
Complete your last 2 dives from our boat
Congratulations you're now certified!
Why Get Scuba Certified in Hawaii
Hawaii's warm waters, and easy diving aren't the only reasons divers choose Kona to learn to scuba dive. Kona, versus the other Hawaiian Islands has a lot going for it. Kona has some of the best diving in Hawaii. We have some of the calmest waters, best visibility, and warmest temperatures among all of the islands. We also have fantastic reefs and easy shallow diving. Going from shore can be a bit of a challenge but is still possible and boat diving is both easy and will take you right to all of the best spots to avoid the swell.
Another great reason to chose Kona over other diving destinations is our world famous manta ray night dive. This is one of the most unique dive experiences you will ever encounter and it's only available here in Kona, Hawaii!
How Long Does it take to Get Scuba Certified?
It can take as little as 4 days to complete the PADI Open Water Diver certification course.
Day 1 – 8-12 Hours of E-learning (on your own computer)
Day 2 – 7 Hours of Confined water (includes gear introduction)
Day 3 – 2 Open Water Dives, approximately 5 hours
Day 4 – 2 Open Water Dives, approximately 5 hours
Is Kona good for scuba diving?
Kona has some of the best diving in all of Hawaii. This is due to it's geology being Hawaii's newest and largest island.
What if I have already taken the E-learning course or have a discount code to take the e-learning course
If you have already purchased e-learning or have a discount code, go ahead and book your course with us. We'll refund you afterward based on the e-learning cost.
How do you become a certified diver in Hawaii?
Sign up for an Open water course. Then complete the e-learning on your own time before the first day of the course. Finally attend the course which usually lasts 3 days. The first day is 'confined water' which usually means a pool and the other two days are in the ocean consisting of 2 dives each day for a total of 4 dives.
How deep can you dive without PADI?
Without a certification you can dive up to 40 feet (12 meters) in a Try Scuba or Discover Scuba experience.
How deep can a non-certified scuba diver go?
A try scuba or discover scuba diving experience will take you down to 40 feet (12 meters) deep.
What happens if you fail the PADI test?
While it is extremely rare that anyone will fail a PADI exam, in the event that it happens you will get another try at it.
How many dives do you need for open water?
Four dives in open water are required to earn your certification in addition to a pool or confined water session. While this can technically all be done in 2 days, it's better for learning, and more fun to do it in 3 days.
How long is a PADI beginner course?
9-12 hours of e-learning plus three days of diving.
Is PADI or SSI better?
The two programs are very similar in that the requirements to achieve an open water diver certification are nearly the same. The standards for diving courses have become more similar over time as agencies have learned what is and isn't necessary to teach a new diver to achieve safe outcomes. The dive center and instructor will likely make a bigger difference in the course experience than the agency the course is sponsored by.