The Maldives Liveaboard Trip- M/V Emperor Explorer
Kona Honu Dive Travel
January 5 - January 15, 2022
Join Kona Honu Dive Travel as we explore The Maldives – known for unique underwater topography, caverns, and walls. The chance to experience the biggest fish in the sea (whale shark) and other large animals like manta rays and a variety of sharks is great due to the currents.
The MV Emperor Explorer is a brand new liveaboard in the Maldives in 2019. It is the model of lavish liveaboards and at 42 m (138 ft), a dream vessel for avid divers from all over the world. Emperor Explorer's four decks easily accommodate 13 spacious and well-appointed en-suite staterooms, all of which offer air-conditioning and a mixture of comfortable king, queen, and twin beds. While onboard, enjoy five-star meals and a complimentary glass of wine with dinner in the open-air dining area or air-conditioned saloon. When not diving there are many open areas on this contemporary liveaboard to relax, stargaze, and soak up the sun surrounded by turquoise Maldivian waters. Additional amenities include massage services, a sizeable and modern dive deck, and free nitrox for certified divers. This is a liveaboard you'll want to write home about!
Inclusions:
10- nights accommodations aboard
Up to 4 dives daily (weather and itinerary permitting)
3 meals daily (with 1 glass of wine at dinner)
Coffee, water, tea, snacks, towels, and linens
Tanks, weights, belt
Free Nitrox (must hold certification)
Same-day airport/boat transfers
Government Green Tax and Service Tax
Exclusions:
Airfare
Rental Equipment
Dive Insurance
Travel Insurance – We highly recommend trip cancellation insurance for unforeseen circumstances, as your trip is non-refundable
Gratuity for the crew – cash only – industry standard of 10% and 15% of the cost of the trip
Alcohol – available for purchase onboard
Additional services onboard
Cabins & Vessel Layout & Pricing
Upper Deck Suites– 1 King Bed – 2 available – #11 & 12
$3433 – based on double occupancy
Main Deck Suites – 1 King Bed and 1 twin bed – 2 available – #9 & 10
$3333 – based on double occupancy
Upper Deck Stateroom – 1 Queen or 2 twins -2 available – #13 & 14
$3333 – based on double occupancy
Lower Deck – 1 Queen – 2 available – #2 & 5
$3033 – based on double occupancy
Lower Deck Cabins – 1 Queen and 1 twin – 5 available – #1, 3, 6, 7, & 8
$3033 – based on double occupancy
Make your deposit here
Single occupancy add 50% – email Virginia with this request – [email protected]
Balance Due Payable by Check or Cash




Best of the Maldives Itinerary
There's a reason this is the most often requested and often run Maldivian liveaboard itinerary! Fish life galore (over 1000 species are found in the Maldives), nudibranchs, sea turtles, whale sharks, and more mean something for everyone's wish list. Photographers will be hard-pressed to decide between macro and wide-angle lenses! On this popular itinerary, divers experience a sampling of the many extraordinary types of sites including lush thilas (reef mounts), manta cleaning stations, deep channel dives. Visiting Rasdhoo, North & South Ari, Vaavu and North & South Male Atolls it's easy to see why many guests choose this for their first Maldivian adventure and then return!
You don't need a minimum number of dives for this itinerary but you should be comfortable with drift diving, as currents can be unpredictable and strong. If you are an Open Water Diver, some dives are below 18m, therefore, we recommend having advanced experience or taking your PADI Advanced Open Water course on board to maximize your enjoyment. Inexperienced and beginner divers may find some dives challenging and may be asked by the Cruise Director to skip dives that are not suitable for their diving experience. All diving is made from dhonis to give precise entry and exit points.

Days aboard Emperor Explorer generally involve a cold breakfast from 6:00 am followed by a first morning dive, Full breakfast, second-morning dive, lunch around 12:00 pm, one or two afternoon dives (depending on the itinerary) and dinner at 6:30 or 7:00 pm. On the day or days when night dives are offered, dinner is typically around 8:00 pm.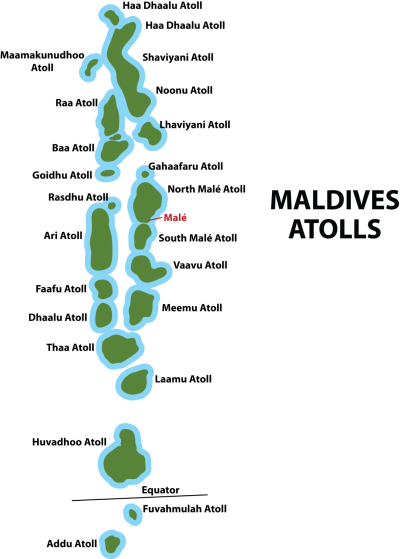 Requirements:
Passport valid at least 6 months
Valid return airline ticket
Certification card
Dive Insurance
Dive Computer
SMB
Snorkel
Regulator with alternate air source
Torch
Weight Belt or Integrated BCD
Medical & Trip Interruption Insurance
Additional Information
Airport Code MLE
30-day free tourist visa issued at the airport
Arrival the day before is encouraged
Onboard charges may be paid using VISA or Mastercard (4% surcharge will be added), or cash (US dollars, Euros, or Sterling)
The airport code for the international airport in the Maldives is MLE. Please note that a passport is required for all visitors arriving in the Maldives. A valid return or onward airline ticket is also required. All visitors to the Maldives are issued a free 30-day visa. Americans, Canadians, and most other countries' citizens do not need an advance visa.
CDC Recommendations
All Travelers – Make sure you are up-to-date on routine vaccines before every trip. These vaccines include measles-mumps-rubella (MMR) vaccine, diphtheria-tetanus-pertussis vaccine, varicella (chickenpox) vaccine, polio vaccine, and your yearly flu shot.
Most Travelers – Hepatitis A – CDC recommends this vaccine because you can get hepatitis A through contaminated food or water in the Maldives, regardless of where you are eating or staying.
Most Travelers – Typhoid – You can get typhoid through contaminated food or water in the Maldives. CDC recommends this vaccine for most travelers, especially if you are staying with friends or relatives, visiting smaller cities or rural areas, or if you are an adventurous eater.
Recommended Hotels
For pre/post trip accommodations (one or two nights), we recommend the following:
Wifi – Cellular phone and internet access are available when in proximity to some of the islands if your phone is so equipped. Internet cards and cellular phone cards are available for purchase at the airport. The vessel's location determines the reliability of access to the internet. The vessel uses primarily UK 3-pin electrical sockets and 220 volts AC 50Hz. No charging is allowed in the cabins – there is a charging station in the salon.
Dive Logistics
All of the dives aboard the Emperor Explorer are offered at scheduled times, up to 4 times daily including 1-2 night dives per charter (weather & itinerary permitting). This is to allow adequate surface intervals, provide the option for guided dives on as many sites as possible, and to allow the vessel to travel on schedule to different locations. Please note that Maldivian regulations limit the maximum depth for all dives to 100 feet (30 meters). Given the prevalence of drift diving in the area, your dives will be done from a large custom-built diving dhoni (tender). This is no ordinary tender! The dhoni is 78.7 feet (24m) long and has ample space for all divers, cameras, and gear. There are individual gear bins for each diver, separate camera and wetsuit rinse tanks and a bathroom with toilet and hot water shower plus two freshwater showers on the dive platform. Both the air and nitrox compressors are on the dhoni as well.
Cancellation Policy
We highly recommend trip cancellation insurance for unforeseen circumstances, as your trip is non-refundable. All deposits and interim payments are automatically non-refundable. In the event you need to cancel every effort will be made to fill your spot. If we are able to fill your spot a full refund will be issued.