Kona Honu divers and Kona Freedivers are one of Kona's best dive shops. We have been offering freediving and scuba diving products since 2002. Spear fishing Kona has become much more popular over the recent years. And so we have begun carrying more spearfishing gear and spearfishing equipment.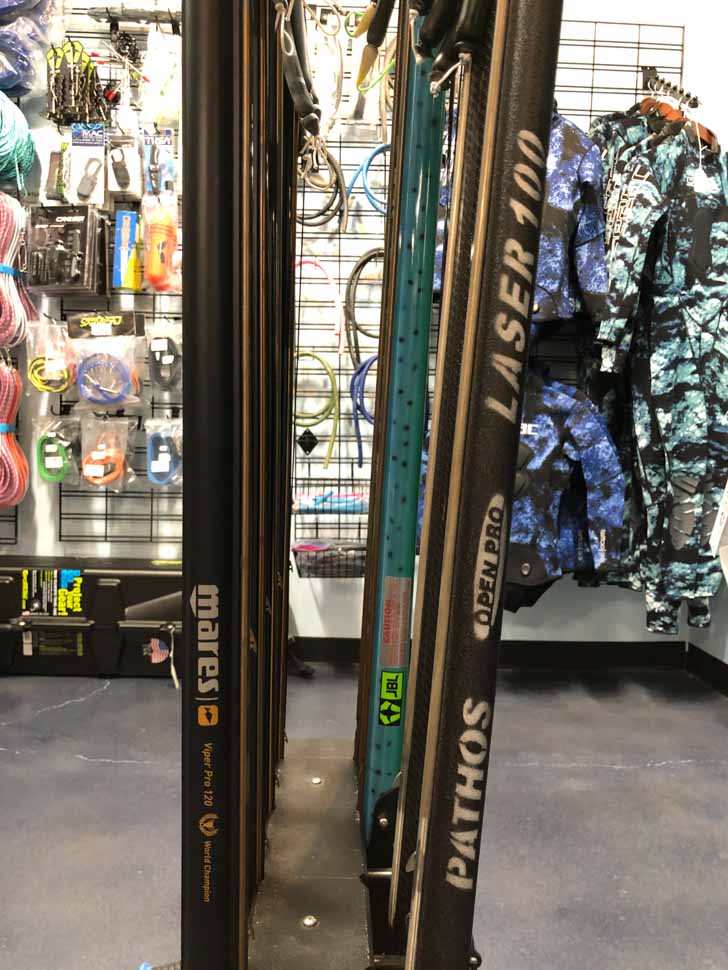 We have a lot of brands that are spearfishing specific. We carry JBL, spearPro, Salvimar, SEAC, Waihana and much more. Come by the shop and see our ever-expanding spearfishing section. We love to talk about Spear fishing Kona. There are so many stories to tell. We have our own stories but we also enjoy talking story with you and hearing about your experiences. We also like to keep up-to-date on conditions and local fishing spots. This is important to us because our base of knowledge is always changing.
Kona Freedivers has been around since 2016. It was established to serve Kona's local freediving community. This means that Kona Honu divers carries all kinds of freediving gear and spearfishing gear. There are many dive shops Kona Honu Divers is the only one that has spearfishing, freediving, and scuba diving gear all under one roof.
We believe it's important to have the right gear. That's why Kona Honu Divers carries high-quality equipment for spearfishing and freediving. Your hard-earned money goes a long way at Kona Freedivers. That's because we carry the best in spearfishing and freediving gear. We also charge Internet prices which means that you don't have to go shopping online anymore. We have it right here on island for the same price. We also offer, Kama'aima pricing unlike the other guys. This means you know you're always going to get the best deal. Why would you go anywhere else?
Looking for a new freediving computer? We carry a wild range of selection of freediving computers. We have computers ranging from the highest and all the way down to budget models. Talk to one of our store reps and with our expertise we can help get you set up with a computer that is perfect for your needs. There are many other components to your spearfishing and freediving set up. So we have started a YouTube channel. On their YouTube channel we review gear and make recommendations. We also have how to videos on how to use your gear and get set up properly.
Spear fishing Kona is very specific. It's important to have the right gear for this location. And also depends on the type of fish you are hunting. Some fish require different setups. Our spearfishing experts are highly skilled at getting your gear set up properly so that you can have confidence when you're out in the field. We have been Spear fishing Kona for many years so we know what works and what doesn't.
We have a great selection of spear guns as well. We carry JBL would spear guns. All kinds of pipe guns. And Makai float lines made locally here on the Big Island. When it comes to spear guns it's important to have a gun that fits your budget and your requirements. That's why we have such a large variety in stock. We are also trying to get more guns in stock every day so just come on back in and you'll see that are variety of offerings has changed. Another way to see what we have in stock is to look online. We have an online store that shows you all of the products available with up-to-date pricing and information. We make Spear fishing Kona easy by providing you with the gear and service you need to enjoy your time underwater.
Looking for new fins? We have such a huge variety of fins to choose from that you'll be sure to find a pair that fits your needs. We have fins that work in the budget category fins that are great for the person willing to spend a little bit more and also fins that are extremely high-end and durable. Freediving fins are typically high-performance and so you want to get a pair that fits you well.
Spear fishing Kona is Hawaii's best spearfishing for a number of reasons. Not only do we have Hawaii's best spearfishing shop we also have amazing conditions. This means that we have great water clarity, as well as calm waters. This means that you can go spearfishing here more often than any other island in the Hawaiian Islands. This means that the fish here can be very smart. And so the skilled hunter needs to bring their best skills and abilities in order to land the catch.
Because the waters here are so nice. It's possible to spend many hours at a time in the ocean. This means that you need a good wetsuit. Kona Freedivers offers a large variety of freediving and spearfishing wetsuits. We have camo wetsuits and black neoprene wetsuits. We also offer best dive custom freediving wetsuits. We also have custom wetsuits also don't forget to bring a float! You'll need somewhere to hang all of your catch. Kona Freedivers has a large variety of freediving and spearfishing floats.
If you like to learn how to improve your spearfishing game, Kona Freedivers is teaching spearfishing courses. This means that if you want to learn how to Spearfish, or even speed up your game and spearfishing Kona Freedivers can help you with that. Our spearfishing course teaches you the foundations of spearfishing. From there are spearfishing specialty courses will teach you how to hunt specific prey or hunts in certain kinds of environments.
We also offer spearfishing excursions and expeditions. You can go spearfishing from our boat, or go with us on a dive travel trip to another locale. There's so many great spearfishing spots in the world and we hope to explore them all.
Kona Honu Divers is the best dive shops Kona has. That's because we offer superior service, pricing, and availability. So if you're looking for a dive shop near me give us a call at 808.324.4668.