The Big Island of Hawaii has some of the calmest, clearest waters in the state. This means it's often good to go diving, snorkeling, or freediving from shore. But sometimes the swells from storms thousands of miles away will crash on shore causing massive waves. We once saw a swell so big the resultant wave almost reached up to touch a helicopter flying overhead!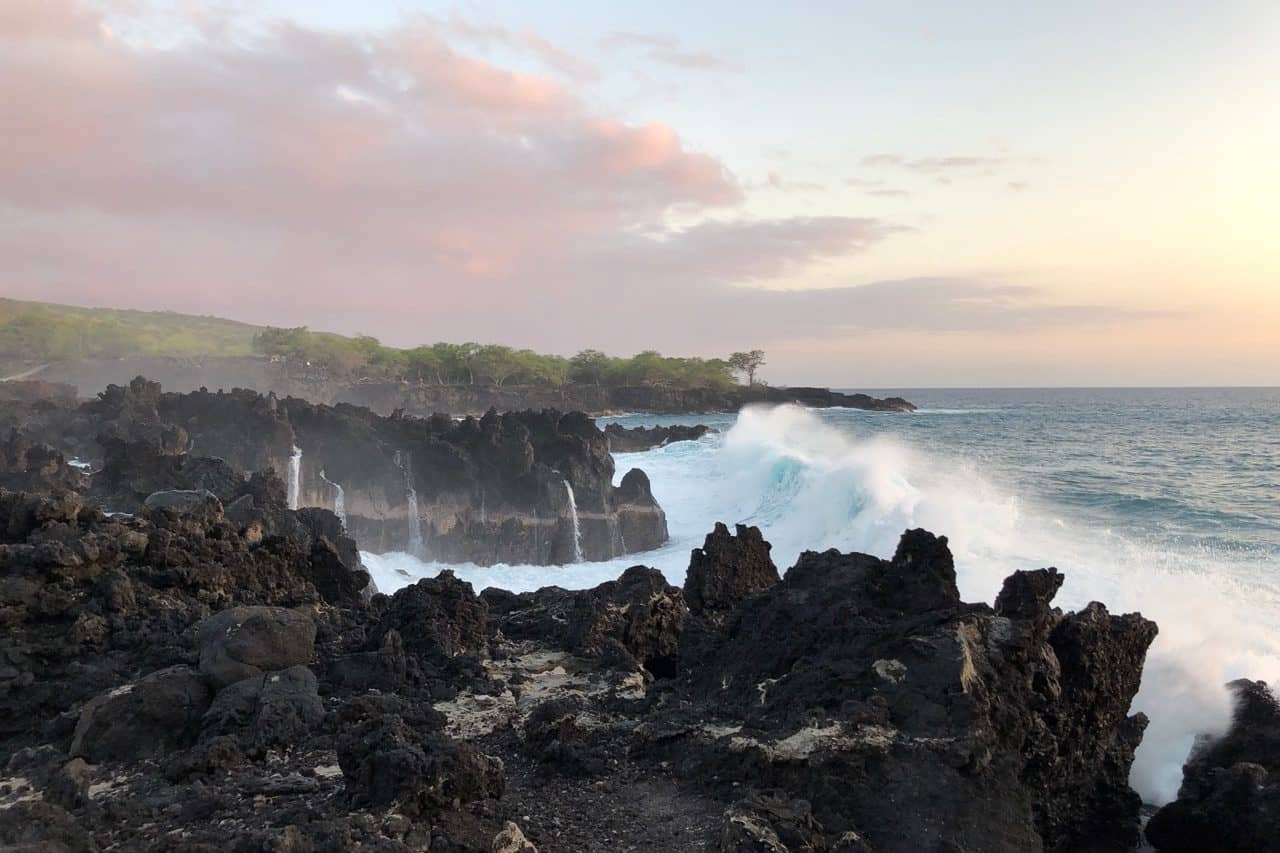 Wondering if it is a good day to adventure on a shore dive or snorkeling adventure? What sites are better during which swells? How about high tide or low tide?
We can help! In this article we will give you the inside scoop on how we decide what sites are the best depending on the Big Island ocean conditions. Keep in mind that this is not always accurate. The best way to know is to visually see what the site is looking like and spend some time watching the ocean and swells before heading out. That being said, these resources will definitely help you narrow down which locations to head to. First, we will start with websites that we like to use and then we will dive into some apps!
---
Websites Detailing Big Island Ocean Conditions
---
Surfline
Surfline is a great website for understanding ocean conditions for the Big Island, Hawaii. It is designed for surfers, but that doesn't mean we can't use it as divers! The free version lets you view a few days in advance and the premium version lets you view up to 16 days. The free version will be fine if you are looking for reports the day of, but if you are looking for further forecasts, the premium is the way to go. There are about 10 beaches that this website reports on along the Kona coast. The variety is nice because you can see which spots may be calmer depending on the swell. The areas that this website reports on are more geared towards suffering so we wouldn't necessarily recommend all these sites for diving, but they do give you an idea on what sites in that area will be like. We like this website because you can get a pretty detailed breakdown (daily or even hourly) of surf, swell, wind, tide, and weather. There is even a little map so that you can see how the swell is hitting that location. Here along the Kona coast, we have a lot of different sites that are effected by different swells, so this is a great tool to have when planning your dives or snorkels.

Weather.gov
We like using the marine portion on weather.gov because you can click on specific areas along the coast and get swell reports for those areas. It is a good way to find a location specific report for Big Island ocean conditions. The website gives you a weather and swell report synopsis at the top of the page and then dives into details below that. It gives you an AM and PM report for 4 to 5 days in a advance and is updated about every 3 hours. This is a good tool to use to follow any impeding weather or swell concerns that might be developing. We like the preciseness of this report, but it does not have charters like surfline or stormsurf.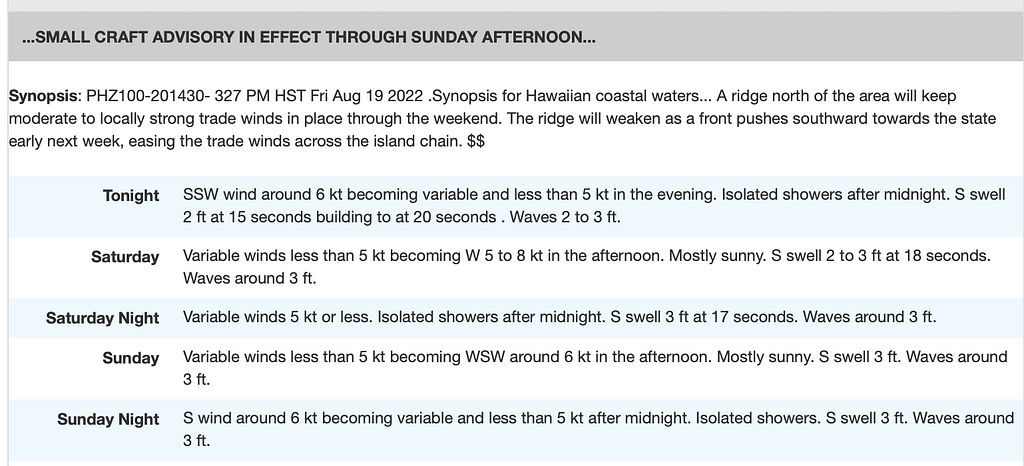 Stormsurf
If you are a charts person, this is the report for you! It gives you a very detailed breakdown of the swells. In regards to analyzing Big Island ocean conditions, this is the website for that. There are individual charts on primary swell height & period, primary & secondary swell direction, secondary swell surf height, secondary swell height & direction, combined sea height, and surf height variability. The biggest downside is that it does not have any other info like tides or wind. There is only one buoy report for the Kona coast, so you can't look at specific dive sites, but it will be the most thorough explanation of what the swell is doing.

Apps Detailing Ocean Conditions for the Big Island, Hawaii
Windy
This app is mostly for weather reports and has a radar so you can see what weather is rolling through. There are a lot of things that you can look at on this app like live weather cameras and wind. You can change the radar to show all sorts of items like wind, rain, temperature, clouds, waves, air quality, and more. The free version allows you to view a 7 day forecast that is updated every 6 hours while the pro version allows you to view 10 days ahead with updates every 1-6 hours. The pro version also allows for more layers and customization. Although it can take a little getting used to, we really like the variety and customization this app offers.
Pro tip: Windy is connected with a live camera overlooking the volcano (Volcano CDP: Kilauea). You can check the camera to see the activity level of the volcano before heading over!
Download it no on the Apple App Store or Google Play
Nautide
Nautide is a very easy to navigate app that gives you all sorts of ocean info. There is a free version and a subscription version. The free version only lets you view a day in advance and the subscription allows you to view as far ahead as you want. The home page is a brief summary of tides, weather, temperature, swell, fish activity, barometer, and more. You can swipe to view more detailed explanations of each item that is on the summary page. There are a few stations you can choose to determine Big Island Ocean conditions, but it does not get as specific as a few options we have listed. We like to use this app mainly for viewing tides and surf. It allows gives you details for sunrise and moonrise times, as well as the moon phase. If you are looking to do any fishing, this might be a good app for you.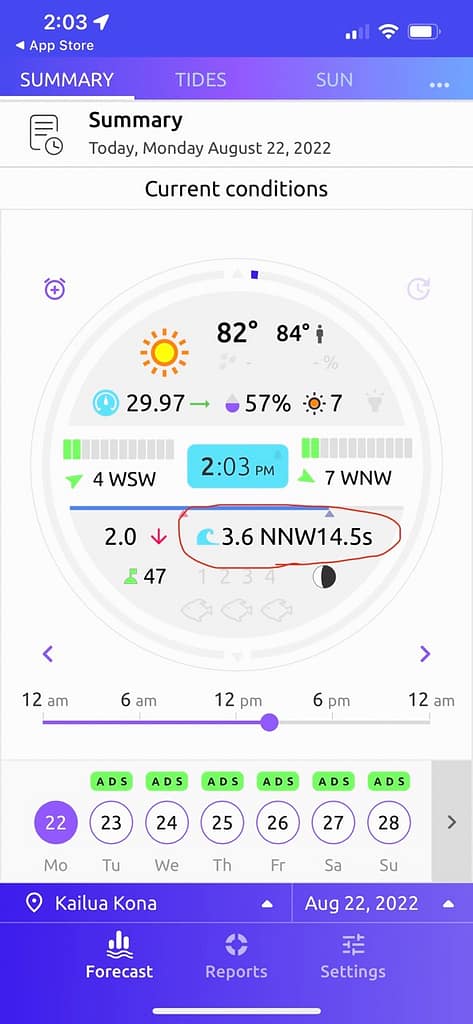 What to Look for when Scuba Diving: How Big is too Big?
By Boat
When scuba diving on the Big Island by boat, you almost have endless options! Boat diving allows you to get to many more sites that are protected from various swells. The biggest challenge of bigger swells during shore diving is the entrance. When you go on a boat, you get to avoid that! It takes a much larger swell to cancel a boat dive than it does to cancel a shore dive. When considering Big Island ocean conditions, shore diving is limited to around a 3ft swell while boat diving can be doable with 6ft+ swells. The most important factor is the swell direction when it comes to boat diving. Our captains are very attentive of the ocean conditions and we take our time to find good sites. We want your dive to be as enjoyable as possible! If the conditions are not looking favorable for shore diving, head to our charters page to see our boat availability.
By Shore
When diving by shore, it is ultimately up to you to determine if the location is safe to dive. Along the Kona coast, most sites are dive-able up to a 3ft swell. There are a few exceptions, but that is a good rule to follow. There are a variety of sites along the coast that are effected by different swell directions. This variety is beneficial, because you can find a site that is protected just about anytime of the year. The Kona coast is mostly effected by North swells during the winter months and South swells during the summer. Head over to our shore diving page to learn about the specifics of different sites. We also have this blog that gives you a brief breakdown of some of the most popular sites. We are currently working on building our own shore diving maps, so keep checking back for those. You can always give us a call or swing by the shop -we love talking about diving!
What to Look for when Snorkeling
Only interested in snorkeling? Head here for a list of top snorkeling sites that our sister company, Kona Snorkel Trips, put together. All of the tools mentioned above can be helpful to determine good snorkeling sites. It is much easier to get in and out of the water as a snorkeler, but you should still be mindful of the conditions and make sure you are not entering water that is above your abilities. There are endless amounts of beaches to snorkel from, but some of the most pristine snorkeling is best by boat. If you don't want to do the work of analyzing the ocean conditions for the Big Island, Hawaii and determining where to go, check out the tours we offer through Kona Snorkel Trips!
What to do now?
The next step is to get out there! Use the resources above to help determine Big Island ocean conditions. Need to rent or purchase gear? Stop on by! We have all your diving needs. You can view our rental rates and options here.
The tools above will help you determine which sites to go to , but remember that it is up to you to determine if a site is dive-able to your abilities. Take time to watch the ocean and swells before hoping in and pay attention to currents and navigation while you are under water.
We hope this helps you determine which sites to go to and if you have any questions, please reach out!
You can always chat with us when you swing by the shop to rent gear!