Sometimes we get stuck in our daily grind and then a friend or family visiting from out of town. Suddenly you're taking them to all of the great restaurants and local attractions nearby. It's only then you realize how great your little piece of the earth is. Sometimes we take for granted what is easily available to us in our own backyard.
I'm from the United States and yet I've traveled vast distances to other countries in far-off places just to go scuba diving. Upon circumspection it was great diving, but I've also had some seriously stellar dives right in my own backyard or at least nearby and they didn't require a passport stamp. Here's my top dive destinations in the United States.
Things to keep in mind when looking for the best places to dive
Sometimes you don't have to go far to achieve greatness
Keep an open mind
Dress for success
There's something for everyone
Warm Water Hot Spots
Dive easy, No dry suit required

Kona, Hawaii
Ok I'm biased. I live in Kona and for good reason. The diving is stellar. The Big Island is a giant fresh volcano so it has very little sand. This gives it a huge leg up over other diving destinations because most of them will have inferior visibility. With bountiful corals, beautiful, colorful reef fish, and some of the best lava tubes and caverns you get some seriously righteous diving. Tack on to this list epic, bucket-list checking large animal encounters including bot not limited to manta rays, monk seals, whale sharks, whales, and tiger sharks and its hard to beat as one of the top destinations in the world. The world famous manta ray night dive probably takes the record for having the most divers of any site in the world.
Add in the fact that some of the best scuba diving operators in the world are based here and it really becomes a no-brainer.


Join us for a 2 Tank Advanced dive to see the best of what Kona has to offer
Niihau, Hawaii
This spot is truly special. Like Kona it has very little sand to foul up the visibility often getting 100+ ft at select sites. While not being as easy to access and with fewer corals than Kona, Niihau makes up for it with a bounty of large and unique animals. My first dive there I saw 2 monk seals, 2 Onos, a lion fish, a shark, black coral, and a large jack with 150ft of visibility. The remoteness of this magical place makes it truly special. It's worth the long day of diving just for the epic encounters and rugged dramatic rockscape found here.
Kona Honu Divers Dives Niihau Every Year in June when the conditions are best
Lanai, Hawaii
One of the less dove spots on this list, Lanai offers some truly spectacular diving. To stay on Lanai can be cost prohibitive since the only legit place to stay is the exclusive 4 Seasons Hotel resort. Instead opt to stay on Maui and take a day excursion with one of the dive operators from there. The stunning topography and richness of the marine life makes this a place you can dive more than once!


Flower Gardens, Gulf of Mexico
One of the most overlooked destinations. Mostly because of it's distance from shore. This is actually an advantage in that its remoteness helps to keep it relatively well preserved
Jupiter Florida
Jupiter is all about the sharks. Get up close and personal with large toothy lemon, bull, tiger, hammerhead, and black tip sharks. Giant groupers also frequent the feeding stations that draw these large predators in.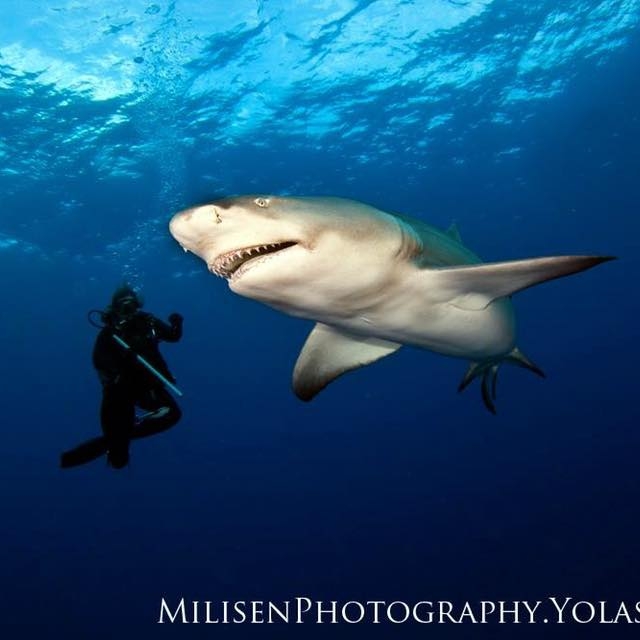 Diving with a lemon shark in Jupiter, Florida



Cooler Dive Destinations
No really, they're really pretty cool. With the proper gear these places can be equally if not more epic than some of the best warm water destinations. See our Blog about custom wetsuits and how they can keep you so much warmer.
"suck it up buttercup!"

Catalina Island, California
Southern California has a lot of coastline but it's mostly rough, poor-visibility diving. Instead take a day trip to the islands nearby. They offer stunning kelp forests packed with myriad fish, sharks, and crustaceans as well as decent conditions. The visibility is often 2x or better of that of the coast. You never know what you're going to get on this island. It has a massive variety for an island of it's size. Dive inches away from a 2-300lb Giant Black Sea Bass in Italian Gardens or play spot the abalone in 2 harbors marine reserve. Some of the best diving I have ever done.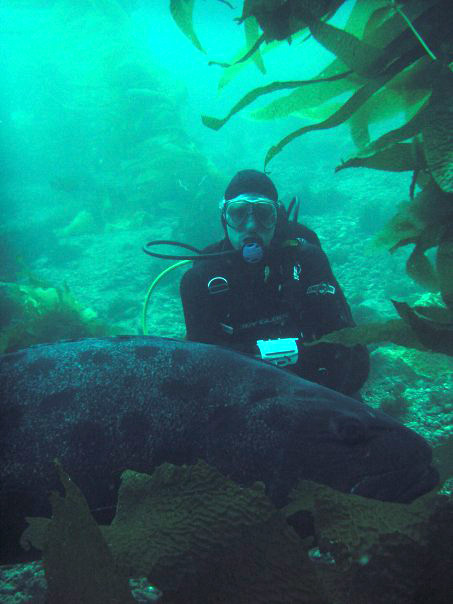 The Author with a giant black seabass on Catalina Island Italian Gardens Dive Site
California Oil Rigs
A more advanced option this is one overlooked dive opportunity. Probably because it is for the more advanced diver. With a near unlimited bottom and a pelagic backdrop you need to be highly aware of your surroundings. That being said you will get the benefit of the warmer Southern California water with the animal life of the more northern dive hot spots.

Monterey Bay, California
The first time visiting Monterey Bay I can remember seeing the abundance of marine life that was so obvious the biologist in me was dumbfounded. Several large fishing vessels worked less than a ¼ mile offshore. Sea lions swam quickly along the surface as sea otters popped up here and there. Birds swooped and dove and my imagination went wild with the possibility of how much "food" must have been available to all of these predators to sustain so many of them. And that was all just from the surface! The kelp and the bay make for one of the best coastal dive spots in the United States hands down with easy to access sites packed with life.

Puget Sound, Washington
Washington's Puget Sound is one of those special places. It's nutrient rich waters foster a soup of abundant marine life. Home to the largest known aggregation of six-gill sharks and the likes of wolf-eels, giant octopus and more anemones and echinoderms than you can shake a rattle stick at it's hard to ignore the fact that it may have some of the best diving in the world. Now you may say "but it's cold and the visibility isn't good" to which I say "suck it up buttercup!". To properly enjoy this place you need 2 things. A drysuit (or custom wetsuit) and a good light. We like Light and Motion dive lights because they are really powerful and flood proof.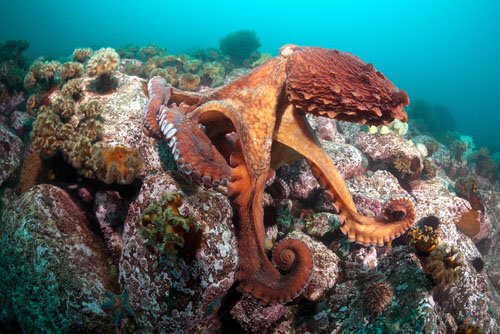 Giant Pacific Octopus can weigh as much as 110lbs with a 20ft tentacle span

Crystal River Etc., Florida
Florida is home to THE best freshwater diving in the United States and perhaps the world. The abundance of swamp and river lands pockmarked with underground caves, caverns, and sinkholes provides an endless stream (sorry) of possibilities. From gators to Manatees to fish, tech diving, and much much more the clarity of fresh water is simply unmatched. The only limit on your visibility is often the wall.