Are you looking for a spearfishing shop in Kona? Kona Honu divers is now carrying spearfishing equipment. We've noticed that over the past few months spearfishing has become quite popular. Since we have the Kona freedivers brand in our shop there's a lot of people coming in for freediving equipment and also for spearing equipment. If you haven't tried it before, spear fishing Kona can be quite challenging. That's why Kona freedivers offers spearfishing courses. We also offer freediving safety courses.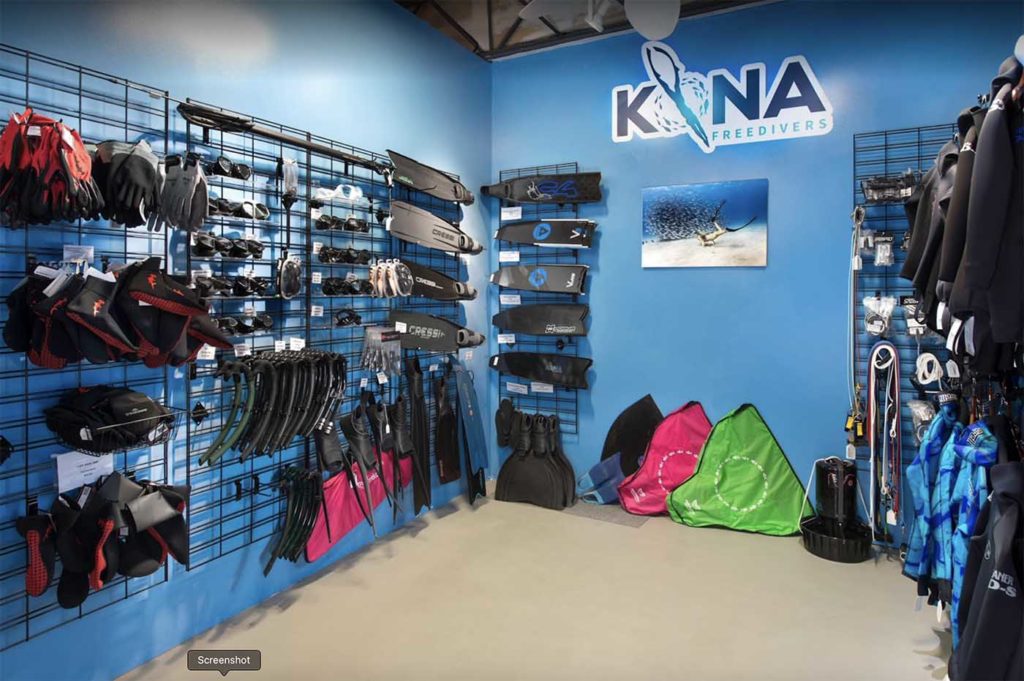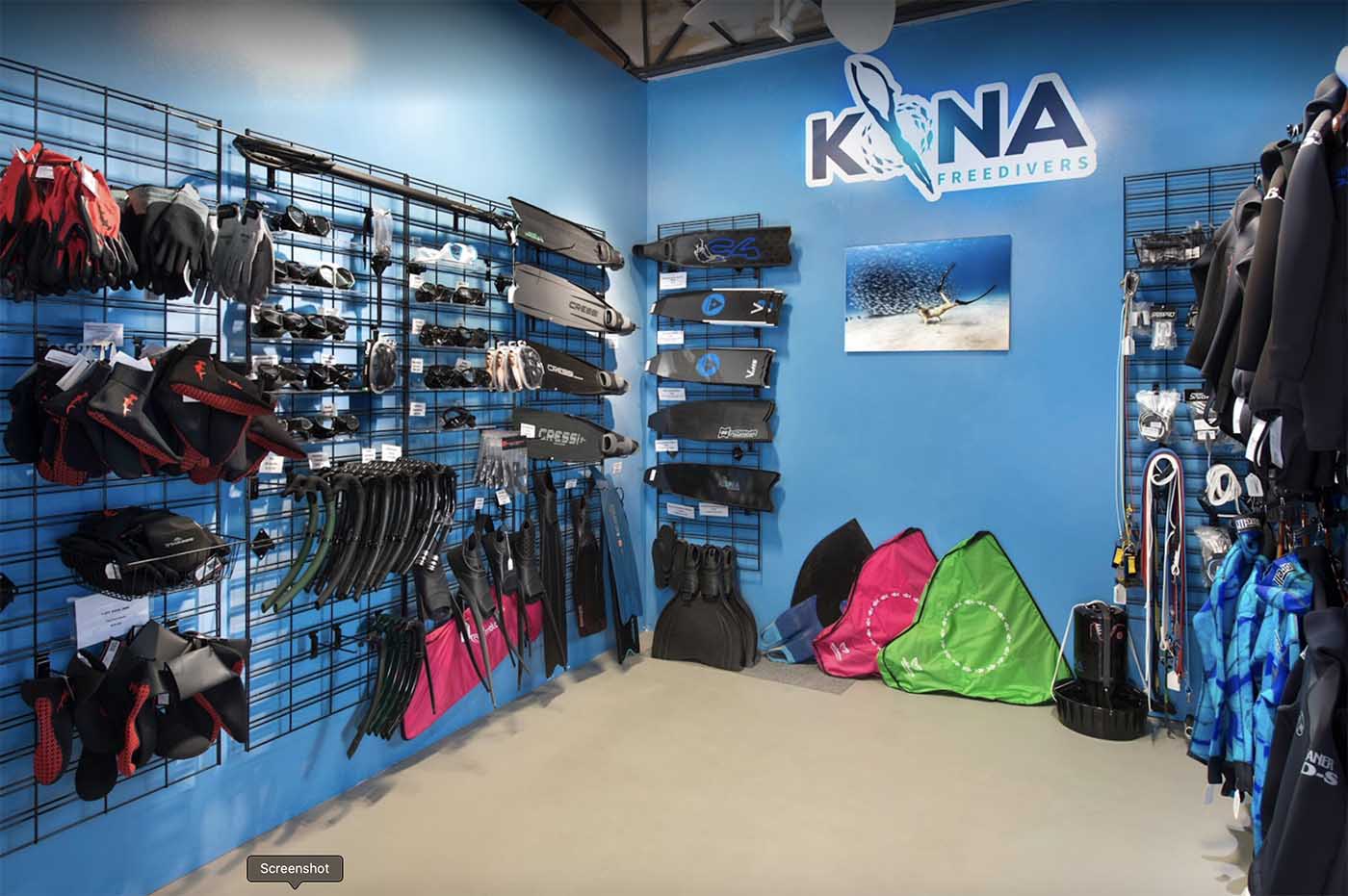 We have begun to carry spearfishing gear because we notice a demand that was unmet here in Kona. Many people will travel to the other side of the island just to buy spearfishing equipment. So we decided that by carrying spearfishing gear we would be able to meet that unmet demand. If you're looking for spear fishing Kona near me look no further!
Kona freedivers has been carrying carbon blade fins, freediving wetsuits, freediving fins, freediving masks, weight belts, and other spearfishing accessories for quite a while now in our freediving shop. We've also been carrying Evolve carbon pole spears. We have the best prices on evolve carbon pole spears and we carry the entire line of evolve diving equipment.
At Kona Freedivers we are looking to provide a service that spear fishermen are looking for. This includes tying rubbers, rigging guns, and even ordering custom guns based on your specifications. We also carry all sorts of spearfishing knives, spearfishing masks, and even spearfishing wetsuits. In spearfishing it's important to be safe so we offer spearfishing courses to people looking to dive more safely. Kona Hawaii is beautiful and the waters are very calm and nice. This means that spearfishing here can be done most of the year around. If you are spearfishing a lot it's important to have quality gear. Kona freedivers offers the highest quality spearfishing gear available on the Big Island. Unlike Tukunaga and J Hara we will carry only the highest quality equipment that we feel provides you with the best bang for your hard earned dollar.
If you're looking for a Christmas gift for your spearfishing man or woman look no further! If you been the pops spearfishing you know how awful pain experience can be. Spear fishing Kona is becoming more popular, that's why Kona freedivers is caring the latest and spearfishing gear and equipment with the newest technologies. If you want pink rubbers, green rubbers, black rubbers, small inner diameter rubbers, blue rubbers we have them!
How long have you been Spear fishing Kona? If you lived in Kona for a long time you may know Bluewater Hunter, or some of the other spearfishing straps that have been here in the area. Kona freedivers seeks to provide what those shops did and even more! We offer custom freediving wetsuits, custom spear guns, and custom service! We even offer tips and tricks for your gear and other things on our YouTube channel. In our level I freediving course we teach you how to be more safe and efficient in your spearfishing. We will also provide a spearfishing course that will help you get off on the right foot with your new spearfishing gear.
What's your favorite fish to hunt? Everybody has different preferences and different abilities. It can be difficult to get some fish, but sometimes you just get lucky and they some right up to you! If you take a freediving course you're more likely to be able to get to the fish that are deeper. These fish are usually less aware of spear fishermen because they don't see them as often. Fish like to hang out in specific areas and they don't typically move too far. This means that if a fish lives in deeper water it often times will not encounter divers or spear fishermen very often. If you can learn to dive deeper you can get the unsuspecting fish. That's why we would recommend you take a freediving course before buying fancy fins. If you looking for different places to go and hunt we can recommend lots of places where Spear fishing Kona is good. There's so many spots up and down the coast. If you're not sure where to hunt we can also help you with that. Because the state only allows hunting in some certain places.
If you like talk story, we would love for you to come visit us. Spearfishing is about community, and we love our divers because we share the same passion. Come come on by Kona freedivers and Kona Honu divers in the we will be happy to help you with your spearfishing needs!
Kona Honu divers was founded in 2002. Kona freedivers was founded in 2016. Kona freedivers was founded with the idea that we would provide a safer way to freediver and some of the most up-to-date advanced freediving equipment available. It was important to our founder and owner Byron K that we serve the freediving community in Kona. The freediving community in Kona is newer and is growing and there are no shops available at offer the kinds of gear and equipment that freedivers want and need. So we started a freediving shop! From there it grew into a Spear fishing Kona shop! Now we serve the west side of Hawaii for all of spearfishing needs.
As far as brands we are currently carrying Beauchat, Salvimar, Pathos, Bobby Abrile, Spearpro, Mares, Cressi, Alchemy, C4 and much much more! Stop by the shop to see what the latest and spearfishing gear is available. We can also custom order for you. If you order a pair of freediving fins and freediving foot pockets will do a custom installation for you! We can get alchemy fins and all kinds of shapes sizes stiffnesses and colors. It can take a while to receive your product want to 10 we will do a custom installation with the full pockets of your liking.
There are so many dimensions and aspects to freediving and spearfishing and we love to cover them all. If there are brands that you would like us to carry please let us know and we be happy to try to get them. It's important that we have all the latest equipment available. Having quality brands is important to us because we want you to get the most for your hard-earned money.