By Kevin Stewart Padi Instructor #188980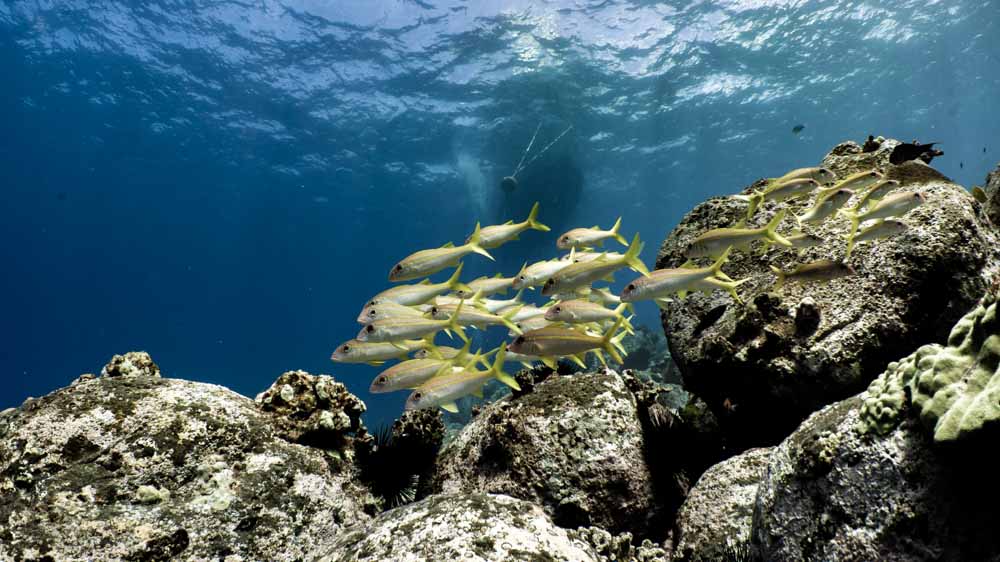 It's time to finally plan and take your first dive trip to the Big Island of Hawaii and besides the logistics of booking airfares and hotel rooms you should also think about what type of dives you want to do. Though I am a current Padi instructor working on the Kona side of the Big Island for Kona Honu Divers a full-service dive center as I tell everyone I am also a consumer of diving and dive travel as well. Being a dive professional, I of course get lots of bottom time diving on the Big Island while teaching Padi courses and taking certified divers out on dive tours from both boat and shore. When I am not diving on the Big Island of Hawaii you can find me taking my own dive trips to other exotic locals such as Indonesia, Maldives and others though I might be prejudice about this Hawaii is hard to beat and I believe the diving on Big Island to be world class. Like you before going I do lots and lots of research about the best way to dive the different sites and try to determine the best dive centers to go with or if you need a dive op to take you at all? The internet is incredible with helping out with this and if you know someone who has already been there word of mouth can help out quite a bit. There will be some places that you really will not have a choice such as Cocos which is famous for diving with thousands of hammerhead sharks at a time is only accessible by boat and the Cenotes of Mexico can only be done as a shore dive which makes since as you are diving in caverns and caves! Luckily for you diving on the Big Island Hawaii offers both and I can honestly say you would not be disappointed doing either one as you can see ample amounts of tropical fish along with possible sightings of pelagic species such as dolphins and sharks. When diving on the Big Island, due to its volcanic nature, the reef offers quite a bit of contours including the possibility of diving through arch ways and even through lava tubes if you're lucky. The exception to this would be if you wanted to dive on the Hilo side of the island which is only done by shore as compared to diving on the Kona side of the Big Island of Hawaii which can be done by both. Also, if you want to do either the world-famous night dive with the Manta Rays of Kona or the now very popular Black Water Night Dive on the Big Island which I strongly suggest your only choice to do those is by boat! Before you decide on whether to do one or the other or both you need to go over the considerations of each one.
Let's go over shore diving Big Island Hawaii first so you can determine if this is something you want to do? I think the first thing you should consider is if you have ever done a shore dive before? Just as there are quite a lot of divers who have yet to do a boat dive there are just as many if not more have never done a scuba dive from shore depending where you live and how you did your open water course? If you have never done a shore dive before then some things in general to know is that shore diving Big Island can be a bit more work than boat diving as instead of just putting on your gear and giant striding off the back of a boat you will need to carry your gear in and out of the water. How hard this will be will depend on things such as your level of fitness and the terrain and distance you will have to carry your gear. What I tell people about shore diving Big Island of Hawaii is that most anywhere you can get into the water you will get a fantastic dive it's getting back out of the water that can be a challenge as the shore line especially on the Kona side of the Big Island can be very rocky and jagged due to the hardened lava we are famous for. As an example, one of our favorite shore and boat dives at Kona Honu Divers is a dive site called NAI'A which means dolphin in Hawaiian as quite often a large pod of spinner dolphins will be there playing during the day and if you're lucky they may even come down to you while scuba diving. In order to shore dive the site you would need to park in the lot above the beach and then carry your gear down what is an old lava flow and then at the end you would need to carry it back up which if your fairly fit is not that hard but more work than going diving off of Kona Honu Divers boat the Honu One.
Other things to consider whether you have ever shore dive before or not is are you and your dive buddy comfortable planning and guiding yourselves from shore? If not then you might want to consider hiring an experienced dive guide to not only help you with this but give an orientation to the dive site so you and your buddy could dive it on your own later. Also do you have the proper gear so you can go shore diving Big Island of Hawaii specifically? As I have mentioned the shoreline can be quite rocky and sharp so wearing booties is best unless you have what's called Hawaiian feet and having a dive float is not only good practice but a local law for shore diving here. Another thing to know about shore diving Big Island is that there are not a lot in the way of facilities close to the dives such as bathrooms and showers and you will want to think about bringing your own water and snacks.
Some of the pluses to diving on the Big Island besides the beautiful dives is that if you are comfortable just going with a buddy and have your own gear you can save some money as compared to the cost of a dive boat and you are more free to dive on your own schedule and to dive at your own leisure. You can even start planning your shore dives now by going to konahonudivers.com and looking at our shore diving Big Island page to find out more about dive sites such as Old Airport, Mile Marker Four, Two Step and many others.
The considerations for boat diving vs shore diving on the Big Island of Hawaii I think start off the same so have you ever done a boat dive before? Some people just assume that if you are a scuba diver you surely must have gone boat diving but again depending on where you live and did your dive course your only access to open water may be in the form of lakes or quarries and you may not have even been diving in salt water yet. If it will be your first boat dive while on the Big Island then I think you will be in for a real treat as like I mentioned boat diving in itself is generally a lot less work and though everywhere in the world you go to boat dive can be a little different here in Hawaii we give you "Aloha" on your dives. Most of the dive operators offer guided boat dives to help not only with the planning of the dives but to guide you on the best part of the reefs and hopefully find you some of the amazing underwater critters you might miss on your own. But at Kona Honu Divers for instance we take it one step further by offering what we call a "Valet" dive service on all our boat charters which includes things like setting up and tearing down your gear and of course washing and disinfecting your gear at the end. We do all the heavy lifting including bringing your tank to the back of the boat and help you in the gear while you sit down so that all you have to do is stand up and stride on in! Our boats even have things like hot water showers, plenty of shade from the sun and our larger boat the Honu One even has a bathroom on it. We also have an assortment of snacks and plenty of fresh water to drink so really all you need to do is show up and relaxed and ready to have fun. Not all dive boats or companies offer these amenities so I suggest you check out their websites such as Konahonudivers.com. Another great thing about boat diving on the Big Island of Hawaii is that most of the dive sites are only 20 minutes or less out of the harbor so you can go out and do two dives in the morning and have the rest of the afternoon free to do some of the Big Islands other land activities. Or if you want a longer day on the water and want to get to some dive sites that are not accessible by shore here you could book a long-range charter on Kona Honu Divers smaller, faster boat the Lele which offers an intimate experience only taking out six divers in style.
As you can tell I really enjoy boat diving though you do need to think about the possibility that if you have not spent much time on a boat you could possibly find yourself sea sick even on the Big Islands relatively calmer waters. If you're not sure possibly talk to your doctor before going on your trip and over the counter meds do work wonders as long as you take them at least an hour before boarding the boat! The only other thing I can really think of compared to shore diving is that boats are on some kind of schedule and do need to leave on time so if you want to do your own thing shore diving might be the way to go? There are other things to know about boat diving and I suggest booking the Padi Boat Diver Specialty for your first two boat dives with Kona Honu Divers to really dial you into it and I am sure you will be hooked on boat diving for life.
Whether Shore Diving or Boat Diving on the Big Island of Hawaii you can contact Kona Honu Divers @ konahonudivers.com for all your diving needs in Kona Hawaii. We have a full-service dive shop offering a full range of gear for sale and to rent.