By Kevin Stewart Padi Instructor # 188980
Wow my first Scuba Dive in Hawaii is something I will always remember for so many reasons but first let me give you a little background about myself. I am currently a Padi Scuba Diving Instructor living on the Kailua Kona side of the Big Island of Hawaii. I have been living here now for approximately seven years though I am originally from southern California. Growing up there I was very lucky to live right by the beach and participated in all kinds of water/ocean related sports including surfing, swimming, fishing and yes diving though diving to me was not in the form of scuba diving but more in the form of free diving without the inherit training you are now able to receive through different training agencies and free diving training centers such as Kona Freedivers. Back then I would take just my mask, snorkel and fins down to the beaches of southern California and snorkel and try to dive down as best I could while holding my breath to see some of the local fish in my area which was a lot of fun of course but again I would have done quite a bit better and had been safer at it had I done a proper freediving course but back then I do not believe they even existed such as FII or even through Padi.com.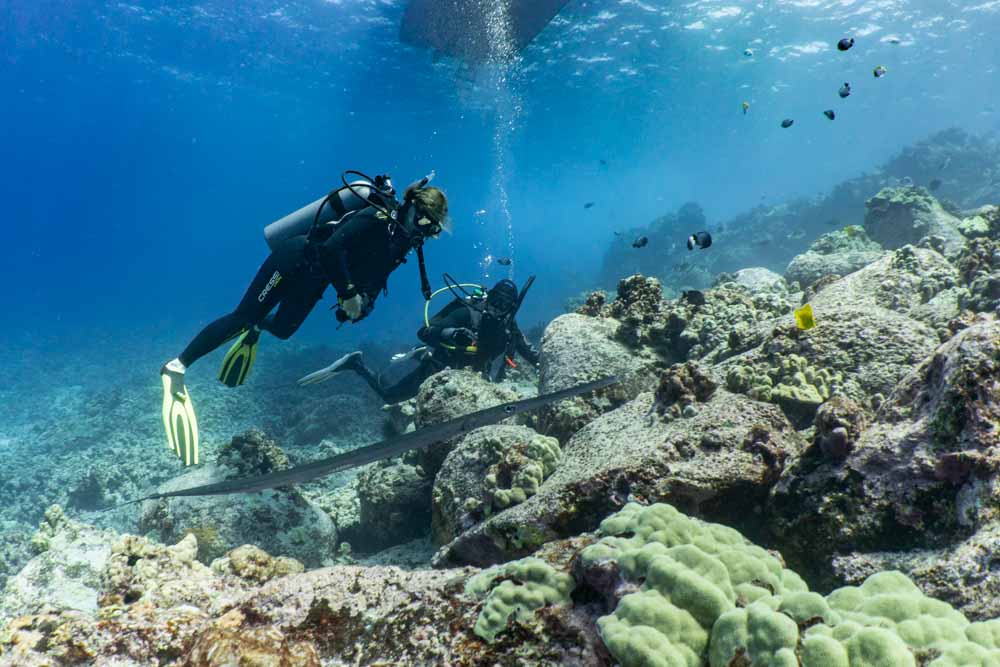 I was even more fortunate back then to be able to take some family vacations to places such as the Big Island of Hawaii and some of the other Hawaiian Islands to do all kinds of different ocean activities though the idea during that time of my life doing a Scuba Dive in Hawaii was about as foreign to me as going to the moon. That was because no one else in my world was a Scuba Diver at that time of my life more or less had ever even thought of Scuba Diving in Hawaii. So even after meeting my wife it still took some years until I finally decided to take my Open Water Diving course through Padi.com which coincidentally coincided with a trip to the Big Island at which time I decided to go snorkeling with the Manta Rays on the Kona side of the island. On that magical evening while night snorkeling with the Manta Rays not only was I mesmerized by them passing underneath me but I was just as amazed by seeing them gracefully glide over the heads of the scuba divers beneath me and it was at that moment that I decided I just had to do my open water dive course so that I could one day come back to Scuba Dive in Hawaii and hopefully Scuba Dive with the Manta Rays of Kona but that is a story for another day .
After returning home I informed my wife that I was ready to do my dive course, ( yes she is still mad at me to this day that I went to Hawaii back then without her) and she was thrilled to hear that she was finally going to have me as a dive buddy. Since I was lucky enough to live by a Padi dive shop I registered for their open water diver course they had coming up and in anticipation of becoming and certified scuba diver my wife
and I booked our first dive trip together. Though I still had a goal of going back to Kona Hawaii to night dive with the Manta Rays my wife and I decided to book our first dive trip to the island of Kauai since I had just been to the Big Island and neither one of us had been there before.
My Padi Open Water Diver course was both a lot of fun while also challenging and I was able to do my open water dives off the beaches near my home. During those dives I not only practiced the diving skills that I needed to be able to perform in order to be a scuba diver but while doing so I of course was able to interact now better that before when I was snorkeling with the local fish life since I could stay down longer than on a breath hold. My course is a blog for another day possibly but I did learn some things to consider when choosing where and how you want to dive as for instance shore versus boat dives and cold water versus warm water diving, (again both potential blogs for another day). Though I went on to do many, many other dives off those same beaches over the years and can honestly say that I enjoyed every one of them I also realized that shore diving can be a bit of work and that even though it was summer time in California at the time I was doing the course the water temps were still averaging 65 degrees which was a bit chilly and in order to stay warm required thick wetsuits with hood and gloves and more weight to get it all to go down. I want to stress that I loved those dives but I already knew from my previous trips to Hawaii that the water was warmer and clearer and had even more things to see in its tropical waters and I had already talked to my wife about doing our first boat dives together. I would like to take a moment here and stress that as a Padi dive instructor for Kona Honu Divers here in Kona Hawaii I always stress to my students who were lucky enough to do their open water dives in its beautiful waters that if they have any type of open water environment to continue diving when they get home that they do so as it will not only keep them diving but ad to their enjoyment by keeping up dive skills for future dive trips to exotic destinations such as diving in Hawaii.
Back then it took a couple of weeks to finish my course as compared to now where you can do it in just a few days and it was literally one week later that my wife and I landed in Kauai Hawaii. We were not only excited to be there but of course excited to do our first dives together and within a few hours after landing we set off to the Padi dive shop that was close by to book those first Hawaiian scuba dives. Knowing what I know now I would have contacted a dive shop such as Kona Honu Divers in advance to arrange our diving but even though my wife was an experienced diver she was not that experienced at dive travel and we were just lucky that we went in the early part of June which is a shoulder season in Hawaii and not as crowded.
The dive shop not only had room for us but also was offering a special on the Padi Advanced Diver course which not only included 5 dives but also all the gear we would need as we had not yet bought our own. We eagerly signed up and took our books back to the condo we rented to do the academics needed which were not as time consuming as the open water course and after going over our knowledge reviews with the instructor the next morning we were all set to finally do our first scuba dives in Hawaii and before we knew it we were geared up on the shore ready to enter the tropical Hawaiian water from a dive site called "Poipu Landing" which we had read about and been told that it is fairly famous for seeing Green Sea Turtles. As compared to Southern California in June the water is a balmy 80 degrees and I entered the water wearing only a 3mm shorty wetsuit. Without the restriction of having to wear a hood and gloves and using a lot less weight to get down though if you were to Scuba Dive in Hawaii during the winter months, I would recommend using a 5 mm full suit. Just entering the water felt wonderful and soon we were descending into the Hawaiian waters with our instructor and another student to do our first advanced open water course skills and it felt just incredible to feel that Hawaiin water surrounding my body and to feel the weightlessness that you get underneath the water especially with less weight on. On this dive we were actually practicing buoyancy skills which made it all that much better and in between doing the skills we not only saw but were able be even closer to all the colorful tropical fish life that a Hawaiian scuba dive offers and we did see the Green Sea Turtles! We went on to do four more exciting dives in Hawaii on that trip and they all were firsts for us as we did our first boat dives in Hawaii and even our first night and deep dives. It was that first scuba dive in Hawaii that led me want to become a Padi scuba instructor as I remember after coming out of that first dive, I wondered to myself If I could eventually help someone learn to scuba dive in Hawaii which eventually, I did.
Should you decide to do you first scuba dives in Hawaii as either a certified diver or as a student diver Kona Honu Divers can help you with all of your diving needs on the Big Island of Hawaii. Hope to see you soon!