Kona's Top Rated and Most Reviewed Dive Shop
Here at Kona Honu Divers we specialize in providing the highest level of service available on the Big Island of Hawaii. There are many Kona dive shops but only one Kona Honu Divers. We offer products and services for scuba, freediving, snorkeling and spearfishing Big Island.
Scuba Diving
Kona Honu Divers has been offering scuba diving tours since 2002 that's over 20 years! We've had our shop open to the public since 2005. Scuba diving is just one of the things we do but we differentiate ourselves from the competition by doing it the best of all. Kona Honu Divers received the reader's choice award from Scuba Diving Magazine readers for the top dive operator in the Pacific and Indian Oceans! This is because we stand out above the rest in these categories:
Safest
Nicest Boats
Nicest Facilities
Best Dive Gear
Friendliest and most competent staff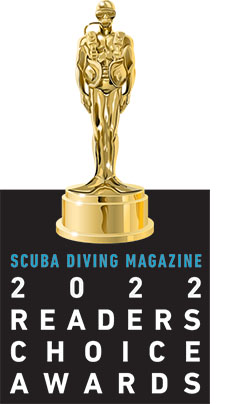 Scuba Gear
We carry top of the line scuba equipment from major manufacturers. But unlike other Kona dive shops who might have a limited selection of product or lots of product from a variety of mediocre dive brands Kona Honu Divers has gone through the difficult task of carrying only the best products from the best brands available. That is why we only carry Atomic brand regulators and sell Light and Motion dive lights. It's simply because they are the best available.
Scuba Gear Repair
We also offer the most convenient and competent scuba dive gear repair services on the Big Island. Need a battery changed? We can do that! Need a complete overhaul of your regulator system? We can do that too! While other Kona dive shops may keep your gear for weeks or lack sufficient knowledge or tools we can service more brands than most dive shops and do it fast.
Freediving
Kona Honu Divers is Hawaii's top Freedive shop. We carry some of the best freediving and spearfishing gear available from around the world. This includes exotic items like nose clips, custom fitted carbon fins, and custom fitted freediving wetsuits. Freediving gear is very specialized and many Kona dive shops don't do it justice but we at Kona Freedivers and Kona Honu Divers know how to do it right!
Freediving Floats
It's important to have the right float. Weather you're traveling, fishing locally, or line diving a freediving float is going to have many great uses. What is a freediving float good for?
Freediving Float Uses
Mark your Position
Notify Boaters you're around
Hang Gear or fish off of
Comply with Local Regulations
In Kona it's necessary to have a freediving float if you are more than 150 feet off shore. This is pretty easy to do and is enforced by DLNR (Department of Land and Natural Resources). The regulation float must have a flag no less than 12 inches by 12 inches. Kona dive shops will carry floats but usually just for scuba and none will have the selection that Kona Honu Divers has!