There are a lot of dive shops in Kona. Some of them have been around a while and others are open more recently. Kona Honu Divers Dive shop has been around since 2005. There are about five dive shops located in the area near Kona town.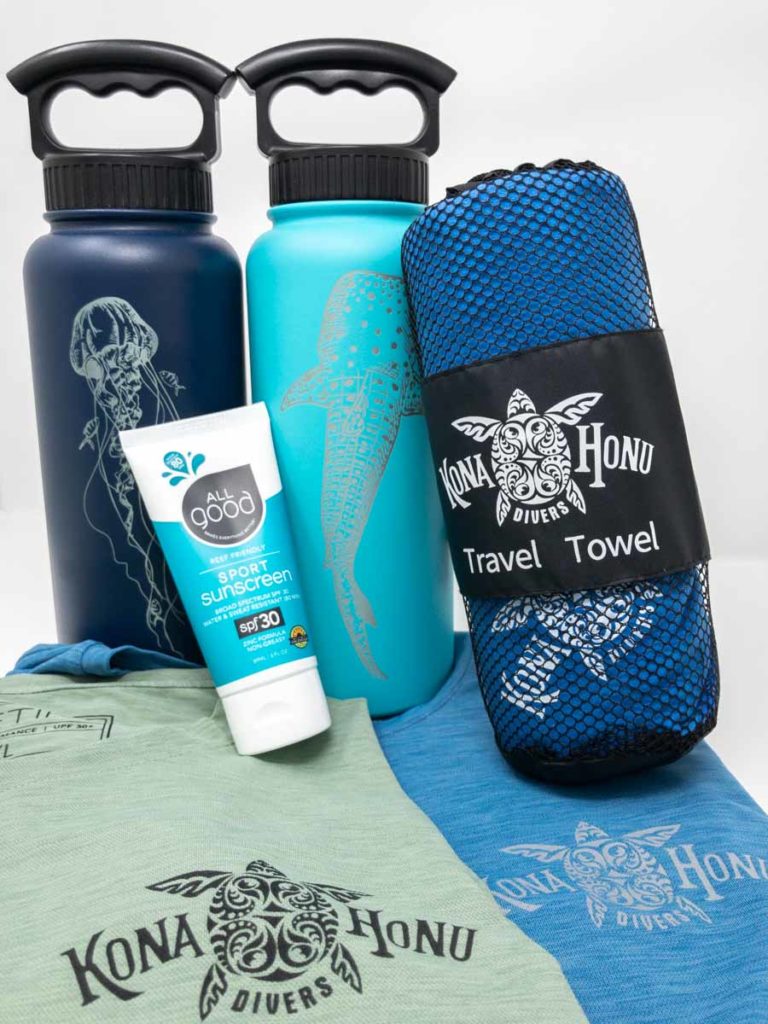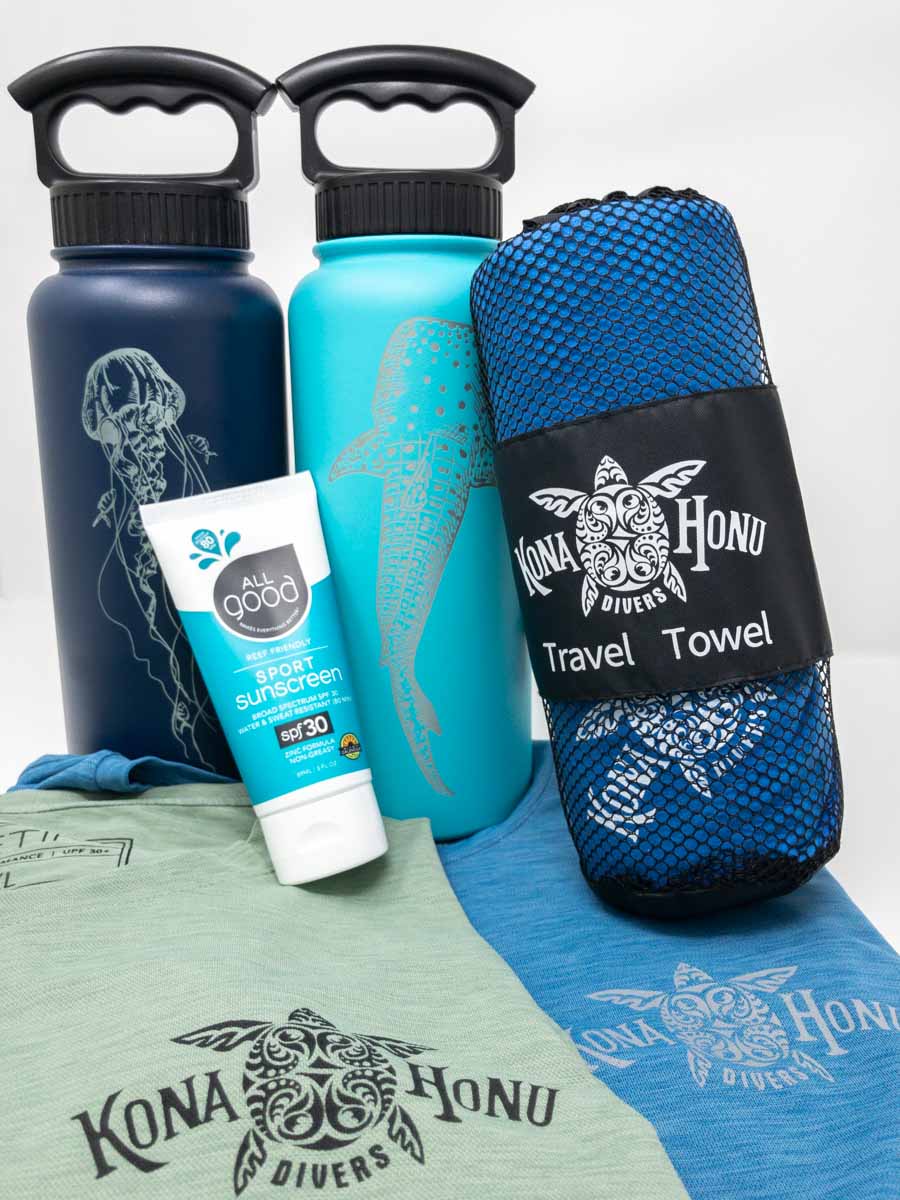 When it comes to Kona dive shops they all have different offerings. It depends on what you're looking for. If you looking for anything remotely freediving gear or freediving equipment related, Kona Honu divers is gonna be the best Kona dive shop for you. Kona Honu Divers is been specializing in freediving gear since 2016. Because freediving is the our passion we are specializing in carrying things like carbon blades, freediving weight belts, nose clips, freediving floats and more!
As far as Kona dive shops go we also try to carry apparel that is interesting and different from the rest. It's easy to buy shirts for mass manufacturers. We didn't want to go the easy route so we hired designers to custom-designed art for us. This beautiful ocean art is featured on stickers hats flasks and shirts. Our shop is the only place in the world where you can find this unique art.
We are one of the few Kona dive shops that carries atomic aquatics gear. We thought it was important to carry the best scuba gear in the industry and so we brought atomic aquatics in. They make the best regulators in the world. Not because they're the most expensive regulators, there simply the best. They breathe the best in their the most reliable. To the things you need when you on the regulator.
But also offers equipment servicing for scuba gear. We have a free bench test on any regulator set. If you have an old rags that you're not sure if it's ready to dive, bring it on by! Are scuba gear repair center is ready to quickly and effectively fix your scuba regulators.
Not all Kona dive shops are created equal, we love our guests! People often comment how friendly we are. This is because we love to see people when they come in. Every new guest is a chance to meet a new friend or family member. It may sound corny but it's true!
Kona dive shops can have a variety of different offerings. Kona Honu divers strives to carry high-quality equipment. That's where we carry light and motion lights. We also carry brands like Tusa, Cressi, Mares, salvimar, beuchat, oceanic, suunto, and more.
We are also one of the Kona dive shops that is dog friendly. You can come in and meet our dogs or bring your own! We love our dogs.
There are many diving shops located in the old industrial area. We are one of the three this located just off of the highway. Swing by and you may be surprised by how friendly our staff is. Also you may be surprised by our shop! We have all kinds of amazing scuba gear and freediving gear and snorkel gear. We have just recently started caring spearfishing gear. We have a great selection of freediving fins, and other freediving gear.
If you looking for sure diving equipment, look no further! We have some of the best shore diving gear available. Our equipment is in great shape, and we can help you find the best shore diving sites in Kona. Check on our website we also have sure diving sites guides available under the rentals drop-down section of our site menu. Some of the best dive sites are featured on our website.
This first I shops go Kona Honu divers is unique, we take pride in going after mile to make sure that you get the gear you need. We have a try before you buy program for freediving's wetsuits and freediving fins. We also offer a try before you buy program for all scuba masks. This means that you can try a mask before you commit to buying it. It can be difficult to try under for mask not knowing whether they're going to fit and then having to purchase it. This is because mass cannot be returned typically. The Kona Honu divers we offer you a try before you buy program where for $10 you can try the mask. If it doesn't fit you can bring it back, but if it does fit we apply the cost of the rental towards the purchase of the mask.
We are also dog friendly dive shop. This means that we have dogs in our shop, and we also welcome people to bring their dogs into our shop. We love to give treats to our dogs and love. Shop dogs are very important to us.
It's also very important to us that you get the right wetsuit. That's why I Kona hunted I was be committed to not really caring any scuba diving wetsuits whatsoever. We have found that getting the right let's see can be challenging and so we do only custom paving wetsuits. With a custom suit you can get exactly what you want it'll fit you perfectly. There's no compromise with the custom wetsuit. You will get exactly what you want and it will fit you perfectly.
We do however carry freediving wetsuits. Freediving wetsuits are more comfortable than scuba diving wetsuits. They can be more challenging to put on the want to get them on they feel very good and they will keep you much warmer.
I got shop also offers the Ohana dive club. The Ohana members give special offers and discounts. We love her Ohana members! Our own Ohana diving club members are our favorites. If you'd like to learn more about this dive club you can check out our website under our about us section.
The environment is very important to us and stewardship is one of our corporate goals. This means that taking care of our reefs is one of the most important aspects of what we do. That's why we carry Reef-safe sunscreen's in her shop. Received sunscreen's are effective at protecting you from the sun and they are okay for our local reefs. I look Ariz provide are livelihood and so you want to protect them. Another way to protect yourself from the sun is to purchase a sun shirt. Some shirts are usually longsleeved, this means that they can keep you protected from the sun but many centuries can get hot. We carry only the best sun shirts that will keep you cool all day even while in full sun. There also good at keeping you dry because they are fast wicking and will dry out quickly.