Kona has some of the best snorkeling in the United States and even the world. The combination of good visibility, warm waters, fantastic marine life encounters and interesting lava features make Kona one of the world's best snorkeling destinations period.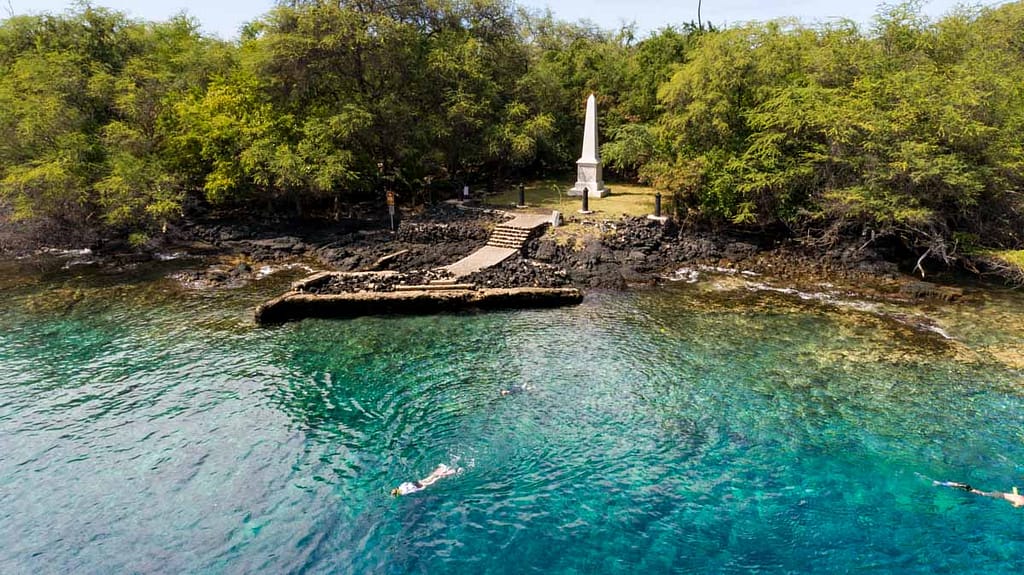 Here are a few guides to get you pointed in the right direction if you're considering visiting Kona to snorkel.
---
Kona Snorkeling Guides:
---
Reasons Why Kona Snorkeling is so Good
If you're wondering Does Kona Have Good Snorkeling? The short answer is yes Kona has excellent snorkeling. The long answer as to why the snorkeling in Kona is so good is detailed below.
Kona Has Excellent Visibility
Because Kona is located on the western flank of a massive volcano (the world's biggest) it is mostly fresh lava. This means there is very little sand. That coupled with calm waters means you'll be able to see farther underwater. The visibility in Kona is typically from 30 – 80 feet.
Kona Has Better Surface Conditions
Compared to the Other Hawaiian Islands like Oahu, maui, or Kauai, the Big Island of Hawaii and specifically the Kona side has excellent ocean conditions. The size of the island coupled with the fact that the other islands shield the Big Islands western flank from ocean swell means Kona snorkeling will be smoother than snorkeling in other places. Couple this with the fact that there are many bays to tuck away in and the conditions become even better. Places like Kealakekua bay where the Captain Cook monument is located are very well sheltered and contribute to excellent snorkeling.
Kona Has Warm Water
The water on the Kona side of the Big Island is 5-6 degrees warmer than on the eastern Hilo side. It averages 80 degrees. with a low of 76 and a high of 84 degrees Fahrenheit. Some people will want to wear a wetsuit however as it can get a little chilly when resting on the surface for longer periods.
Kona Has Amazing Marine Life
Kona snorkeling has a variety of marine life from eels, octopus, reef sharks, and manta rays there's a bit of everything from large to small here. While some of the other Hawaiian Islands will have an abundance of monk seals or turtles none have the variety and abundance of Kona's marine life. It's possible to see hammerheads, humpback whales, dolphins, and mantas on a single snorkel trip!
Kona Has Fantastic Underwater Features
Caves, caverns, pinnacles, canyons, and arches are just a few of the wondrous sights you'll encounter while snorkeling Kona. Kona Snorkel Trips offers a morning snorkel that visits Pawai arches one of our absolute favorite Kona snorkel spots.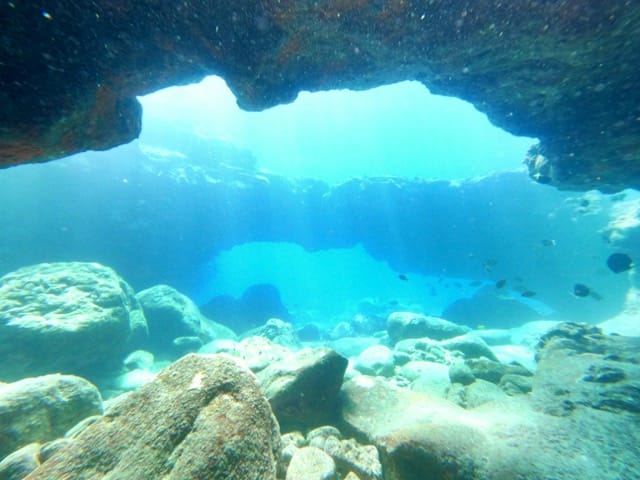 Where to go for the Best Kona Snorkeling Experience
There's several ways to experience the best Kona snorkeling. One is to take a snorkel tour with Hawaii's top rated snorkel company. The other way to get your fill of snorkeling Kona is to simply get some gear and visit some of the best snorkeling Big Island has by using this guide.
Kona Snorkel Trips
Kona Snorkel Trips is Hawaii's highest rated and most reviewed snorkel company. They offer 4 snorkel tours a day including combo packages & private boat tours. Here's a list of the 4 Tour Types
Deluxe Morning Kona Snorkel Tour
Captain Cook Snorkeling Tour
Afternoon Reef Snorkel
Manta Ray Night Snorkel
Each of these tours has it's strengths. Read on to find out more.
Deluxe Morning Kona Snorkel Tour
Visit 2 different sites along the Kona coast. This is the most suitable tour for people who love being in the water and get you out on the reef in 2 different snorkel spots.
Captain Cook Snorkeling Tour
This tour is so different from anything else in Hawaii because it combines a coastal run, gorgeous reef snorkeling, dramatic scenery, and a historical lesson all in to one. Similar time frame to the Deluxe Morning snorkel with less water time and more cruising and above water sights.
Afternoon Reef Snorkel
Essentially a shorter version of the Deluxe Morning Reef Snorkel you'll be out and back with a visit to one extra special snorkel site. You will be back in time for happy hour.
Manta Ray Night Snorkel
The manta ray night snorkel Kona Snorkel Trips offers is one of the most popular attractions on the Big Island. Seeing these massive flying underwater creatures is mesmerizing and puts a giant smile on everyone's face. There's simply nothing else like it in the world.
Kona Snorkeling Your Own Way
If you're feeling a bit more intrepid you can always get a set of snorkel gear and seek out the best snorkeling on Big Island yourself. Kona Snorkel Trips has a YouTube channel detailing all of the Kona snorkeling sites coupled with a guide.
This map and guide detail the places to go snorkeling on Big Island covering many of the popular and not so popular spots. The Big Island is no joke. There's so many different places to snorkel here it could take years to see them all!