Truk (Chuuk) Lagoon - Micronesia | Kona Honu Dive Travel Group
When: October 30 – November 6th, 2021
with Travel Guide – Virginia

See Virginia's packing list here.
Liveaboard: Truk Odyssey, Truk Micronesia
5 Reasons to Dive from Truk Odyssey according to Scuba Diving Magazine
1. On the Spot
Twenty-five of the premier wreck sites have individual moorings adjacent to the wreck, allowing great freedom to come and go as you wish — as long as you are back in time to depart to the next wreck.
2. Spread Out
Staterooms are spacious and luxurious, each with king or twin beds, entertainment system, private bathrooms and individual climate control.
3. Go Native
Odyssey uses experienced local Chuukese dive guides who know every facet of the wrecks inside and out.
4. Tec Savvy
Twin tanks, nitrox, pony tanks, custom oxygen blends and even trimix are all available, as well as CO2 absorbent and bottles for rebreather divers (additional fees might apply).
5. Belly Up
Bring a hearty appetite: Meals and snacks will impress — and keep you charged up for the diving. Soft drinks, beer, wine and spirits are included.

Inclusions:
7 – nights onboard
Round Trip airport transfers
6 days of diving – up to 5 dives per day
All meals, snacks, and beverages – except dinner on the final evening

Beer and wine

30% Nitrox fills for certified divers – Obtain your Nitrox cert prior to the trip
Tanks, weights, and belt.
Exclusions:
International airfare
Rental Equipment
Dive/Travel Insurance
Pricing:
$3395
Plus 5% Truk taxes ($169) and $50.00 per person Diving Permit Fee
$795 non-refundable deposit
Email [email protected] with inquiries.
Requirements
Passport valid at least 6 months
Certification Card
Dive Insurance
Must be in good health and physically fit for this trip
The Odyssey boasts nine large, luxurious staterooms all fully carpeted with private air conditioning controls, windows or large portholes, and private toilet, shower and sink all in every stateroom. Seven of the staterooms are equipped to easily accommodate two single travelers in twin beds or a couple in a spacious king size bed. Also available are two staterooms for single travelers only – they have all the features of the double staterooms and easily accommodate the single traveler in a twin bed. All staterooms have a 32″ monitor with access to the onboard entertainment system. Staterooms are cleaned daily.
The most striking room on the Odyssey. Attractive Fijian teak tables that can easily seat a full boat and her crew. The full-service wet bar which is made out of coconut wood (also known as palmwood. After coconut trees fall, the wood is collected, treated and used to make gorgeous furniture.)
The Odyssey's dining salon is fully carpeted and air-conditioned with two walls of spacious windows for viewing the beauty of the islands in Truk Lagoon.
Delicious buffet-style meals are the norm for the Odyssey. We feel its more relaxed and similar to being at home.
Breakfast includes a hot breakfast plus toast, cereals, fruit, and juices. Guests are served delicious lunches and snacks throughout the day. Hot, savory, hearty dinners will complete your exciting day of diving, eating and relaxing. Don't forget the most important part of the meal though…the dessert!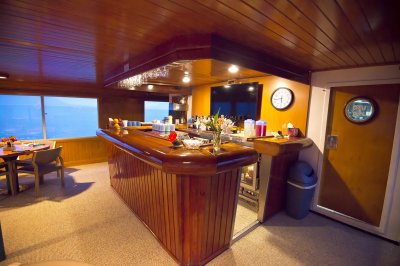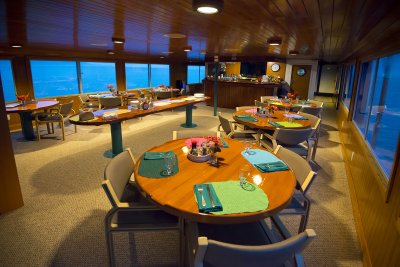 During your stay in Truk Lagoon you will find that the majority of your diving will easily be done directly off the Odyssey while we are moored over the dive site. Once you arrive and set up your gear in your own private seat and protected dive locker, you won't have to take your gear apart until you prepare to go home. Your tank (air or Nitrox) will be conveniently filled at your seat.
You'll find that the spacious dive platform (13' x 6') has plenty of room for two divers plus a divemaster. One 7' ladder and an in-water elevator to help you out of the water where you can step up to the convenient freshwater shower to rinse off with. Just 4 steps to the dive deck and you'll find the camera rinse tanks (one on either side of the boat). Past the camera rinse tanks are the gear rinse tanks.
For our photographers, we have a large, sturdy, 3-tiered, carpeted photo table for all your working needs.
There's plenty of space to hang your wetsuit on the bar just in front of the protected fan blowing warm air out of the engine room! Ahhh!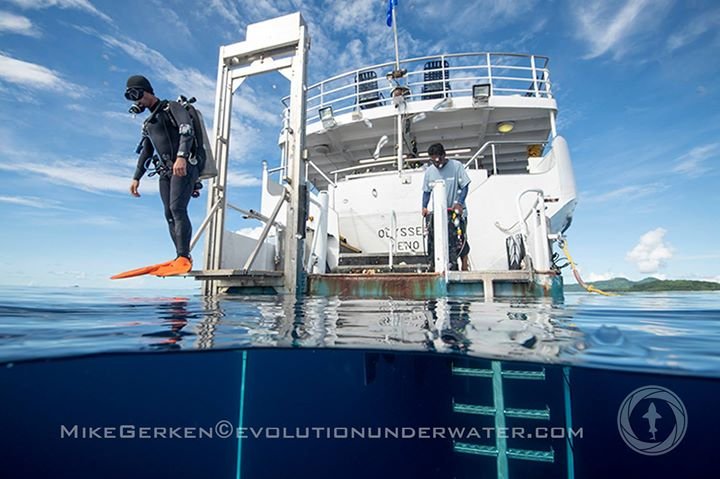 The comfortable lounge is where you'll find a variety of ways to entertain yourself. We have a well-stocked fridge to quench your thirst while you settle in for a good movie (with over 500 titles to choose from — even current ones). You can also find a good book to read in the library, or look through our various fish identification books. Odyssey also has a well-stocked boutique located in the lounge.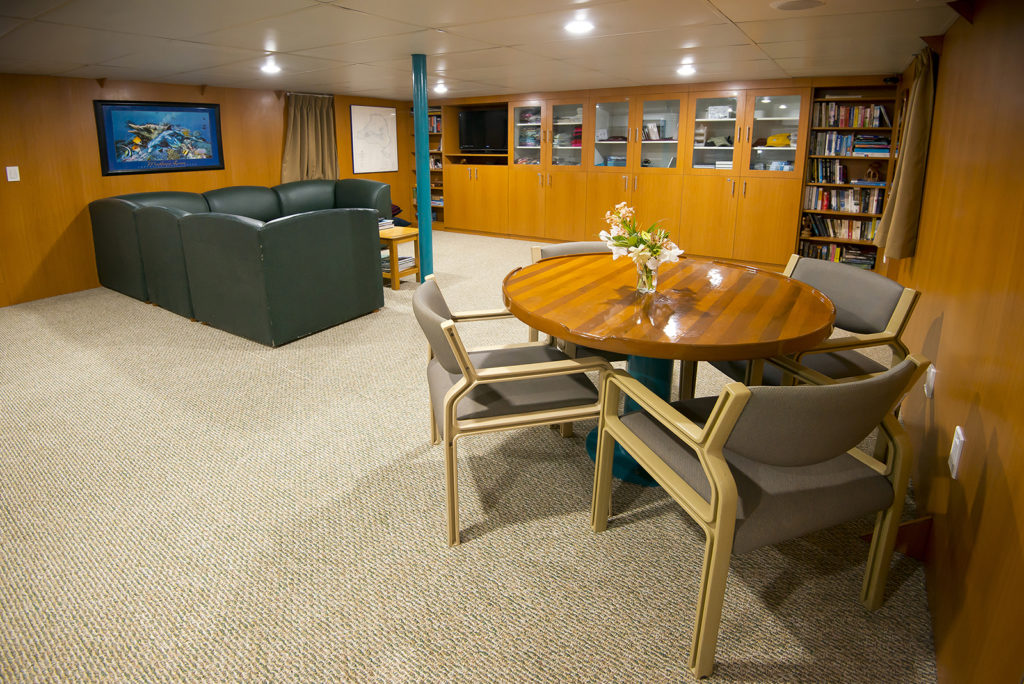 Cancellation & Refund Policy
We highly recommend trip cancellation insurance for unforeseen circumstances, as your trip is non-refundable 90 days prior to
departure. All deposits and interim payments are automatically non-refundable. In the event you need to cancel every effort will be made to fill your spot. If we are able to fill your spot a full refund will be issued.