Puerto Galera & Tubbataha - Philippines | Kona Honu Dive Travel
April 18 - 30, 2022
1 Cabin (2 spots available)
Join Kona Honu Dive Travel on an epic diving adventure from both land and sea. We will start our diving at the lovely Atlantis Resort in Puerto Galera and then head out to sea via the Atlantis Azores liveaboard to a remote area of the world for amazing diving.
Only accessible by liveaboard during a small window of time from mid-March to early June these trips sell out years in advance, and for good reason! This UNESCO World Heritage Site located in the middle of the Sulu sea and is the Philippines finest diving.
Tubbataha is located in the Sulu Sea, at the center of the Coral Triangle between Indonesia, Malaysia and the Philippines. Rarely visited due to its location and its status as a marine preserve, Tubbataha is made up of two reefs, simply referred to as the North and South Reefs. The North and South Reefs both enclose a sandy lagoon. On the southern tip is an islet with a lighthouse. This is used as a rookery for birds and is frequented by turtles.
Tubbataha Reefs Natural Park is home to no less than 573 species of fish, 373 species of corals, 11 species of sharks, 12 species of dolphins and whales, nestling hawksbill and green sea turtles.
Pricing & Accommodation Types
Azores Liveaboard:
Deluxe cabins – 7 available – US$4,595 per person based on double occupancy
Owners cabin – 1 available – US$5,085 per person based on double occupancy
Puerto Galera:
Deluxe Rooms – US$1390 per person based on double occupancy
-upgrades available for additional fee
Why travel with Virginia and Kona Honu Dive Travel Group?
You receive FREE Nitrox – a value of over $600!
You receive a 5% savings on both the liveaboard & land-based diving trips – another savings of $300!!!
For a combined land & sea adventure total of $5686 for Deluxe Cabins!
Non-refundable deposit $495 to secure your spot.
*Second payment of $1995 due July 1, 2020
*Balance due October 1, 2021
*Second and balance due payments are to be made by check to Kona Kai Divers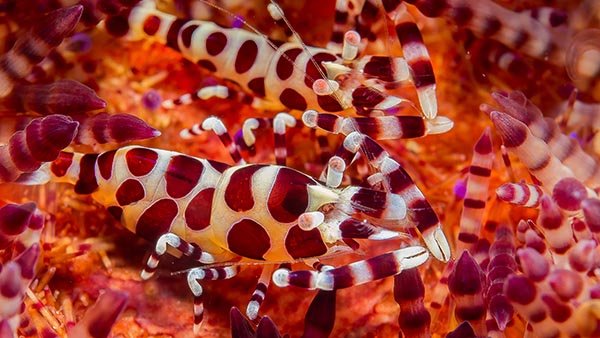 Inclusions:
Accommodation, 5 nights land & 7 nights boat, (double occupancy)
All meals and snacks on board & all meals on land
Complimentary local soft drinks, beer and social servings of wine – boat only
Use of lounge, deck and TV areas
All diving (tanks, weights, boat and guide)
Exclusions:
International Airfare (into Manila airport, MNL)
Marine Park fees for 7-night charter and land-based diving**
Transfers to/from embarkation/disembarkation ***
Tourist tax*
Rental Equipment
Dive Insurance
Travel Insurance – We highly recommend trip cancellation insurance for unforeseen circumstances, as your trip is non-refundable.
* Tourist tax is currently PHp110**Guests are responsible for paying marine park fees at the time of their stay on their personal bill; as these fees are set by local Municipalities they can change at any time. The current fee for 7 nights is $120 per person including all taxes. The current fee is Php210 per day dive and Php315 per night dive per person in Puerto Galera. *** We provide Atlantis concierge transfers between Manila and Puerto Galera at a cost of US$100 per person roundtrip. Rate includes roundtrip air-conditioned van between Manila and Batangas, private outrigger boat between Berberabe Dock in Batangas and Sabang, personal airport 'meet and greet', and luggage assistance. Night navigation is restricted on transfers from Batangas to Sabang, so guests will require a hotel stay in Manila if arriving after noon.
*** Atlantis concierge round trip transfers between Manila and Puerto Princesa at a cost of US$234 per person based on 16 persons traveling together. Rate includes roundtrip domestic economy airfare between Manila and Puerto Princesa, 32 Kg/70 lbs of checked luggage, round trip private air-conditioned van between the international terminal and domestic terminals in Manila, round trip transfers between Puerto Princesa airport and Azores, personal airport meet and greet, and luggage assistance. As the airlines do not set their domestic prices until 11 months before travel this rate is subject to change.
Important note: Due to continuity and scheduling issues, all portions of domestic transfers for Azores bookings must be made by Atlantis.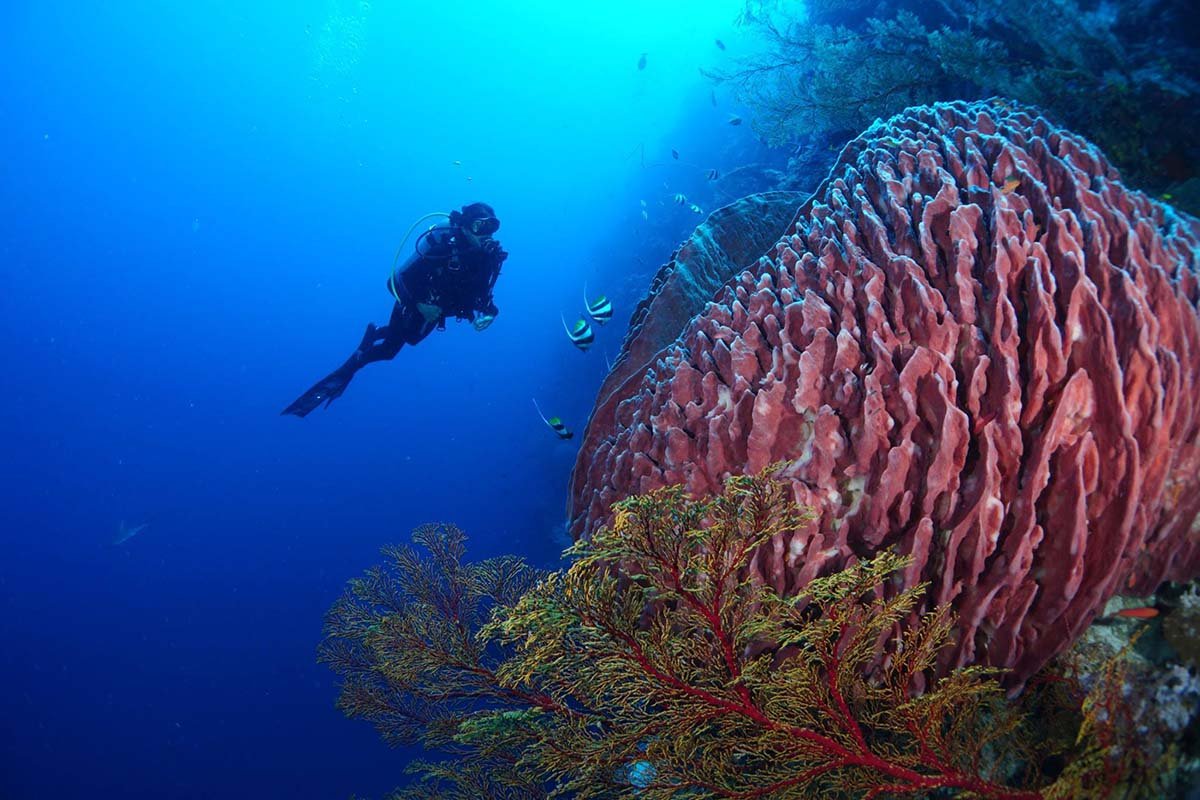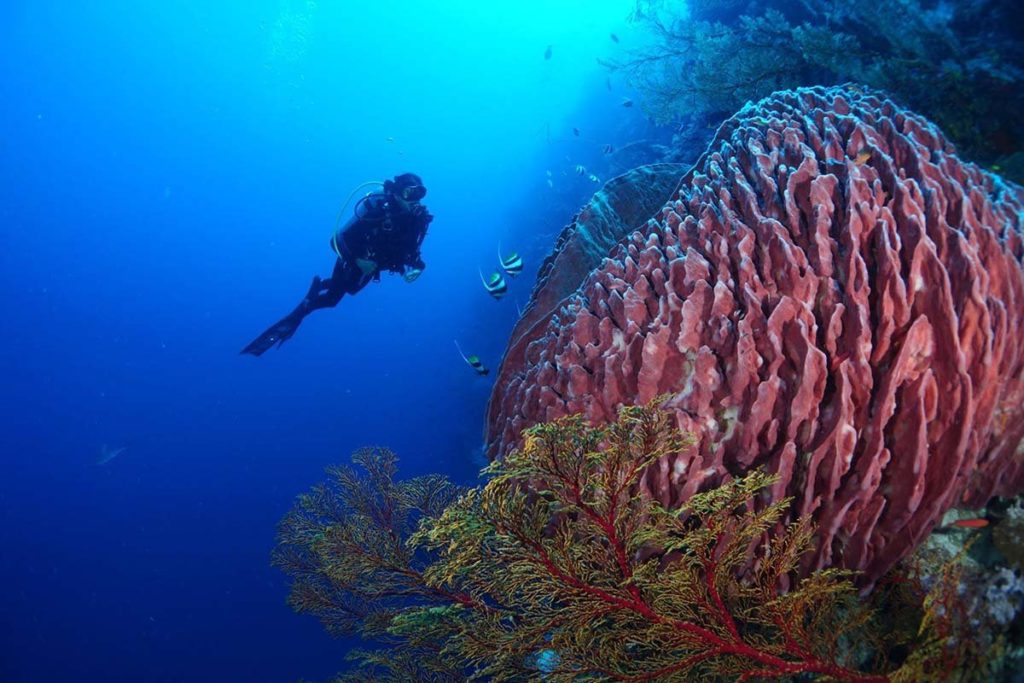 Itinerary
16th: Leave Hawaii
17th: Overnight in Manila at the Belmont
18th: Transport to Puerto Galera – 2-afternoon dives & 1-night dive
19th: Dive
20th: Dive
21st: Dive
22nd: Dive
23rd: Transfer to MNL @ 8AM, arrive MNL/Terminal 3 by approximately 11AM. Cebu Pacific domestic flight departs MNL by approximately 2PM, arrives PPS by approximately 3:30 PM (1 hour 30 min flight) based on 2020 schedule. Board Azores after 5PM.
24th: Dive
25th: Dive
26th: Dive
27th: Dive
28th: Dive
29th: Dive
30th: Transfer/domestic flight from PPS @ 8:30AM, arrive MNL/Terminal 3 by approximately 10AM (1 hour 30 minute flight). Possible terminal transfer in MNL required.
Diver Requirements:
Passport valid at least 6 months
Certification Card
Enriched Air/Nitrox Certified – highly recommended
Dive Insurance
Must be in good health and physically fit for this trip – we are far from medical attention in a remote area of the world
Yacht Specifications
Safety Equipment
Construction: Aluminum Monohull
Length: 107 feet
Beam: 18 feet
Draft: 7 feet, 1 inch
Cruising Speed: 7 – 8 knots
State Rooms: 8
Communication & Navigation Equipment
Passengers: 16
Crew: (6+)
Range: 2,500 nautical miles
Year Built: 1989
Year Refit: 2012/2015
Builder: Seacraft Shipyard, Amelia, Louisiana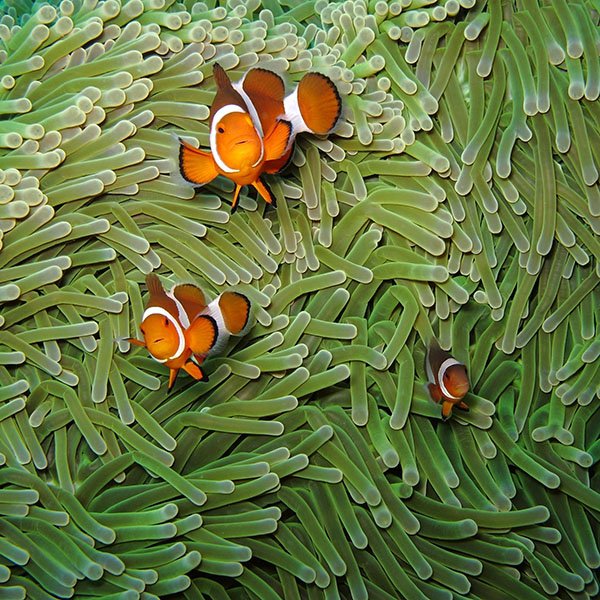 Philippines Luxury Liveaboard
State Rooms
Azores has seven deluxe staterooms with double and single bunk-style berths, ensuite lavatory, private head and shower, hairdryer and shower gel. All situated below deck. Our Owner's suite is located on the upper deck with double and single bunk-style berths. The suite is larger and has a desk, large picture windows and extensive storage space.
Dining
Toko's Restaurants, located in Atlantis Puerto Galera & Dumaguete have long been described as "world class" and the "best food we have ever had on a dive vacation"; it's no different on Azores. We proudly adhere to our principle of only serving freshly prepared meals and snacks. Our snack and drink bar is open all day – featuring a Keurig cup brewing center with multiple choices. All drinks on board including social servings of beer, wine and local rum are complimentary. You may also bring your own beverages with no corkage fee.
Entertainment & Amenities
Enjoy a wide selection of movies on our flat screen TV or sit back with a book or magazine from our library; an assortment of board games and cards is also available. Each evening you will be treated to either one of Atlantis' unique marine life presentations, a picture slide show, or a presentation on your next destination. Besides diving, you can improve your photography skills, snorkel or take land excursions during your trip. The Azores features a partially covered sun deck with chaise lounges, complete wet bar, hot tub, an assortment of sitting areas with tables and a large swim platform with warm freshwater showers. The Azores Boutique offers essential dive equipment such as signal tubes, whistles and flashlights, as well as logo t-shirts, caps and other souvenirs.
Diving & Dive Deck
Our spacious dive deck allows you to gear up in comfort. A roomy three-tier camera table is available for photographers along with a charging station. All divers have their own storage area for dive equipment and there are fresh, hot water showers on the back platform.
Most dives are done from two zodiac tender boats with a short ride to dives sites. Our dive team will ensure you get the best from every dive; charters include five dives a day (including night) although personal preferences or logistical concerns may change this on a day to day basis.
The Azores offers a full range of PADI Programs; popular specialties such as Nitrox, Underwater Photography & Naturalist can be easily completed around the dive schedule.
Nitrox is available on all charters.
Technical diving and Rebreather diving is possible if pre-arranged.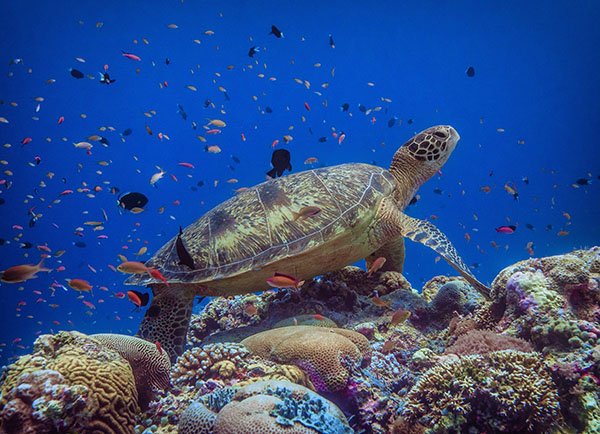 Dive Day Schedule
Day 1: NORTHERN TIP OF NORTH ATOLL
Day 2: SOUTHERN END OF NORTH ATOLL
Day 3: NORTHERN TIP OF SOUTH ATOLL
Day 4: SOUTHERN END OF SOUTH ATOLL
Day 5: SOUTHEAST OF NORTH ATOLL
Day 6: JESSIE BEAZLEY REEF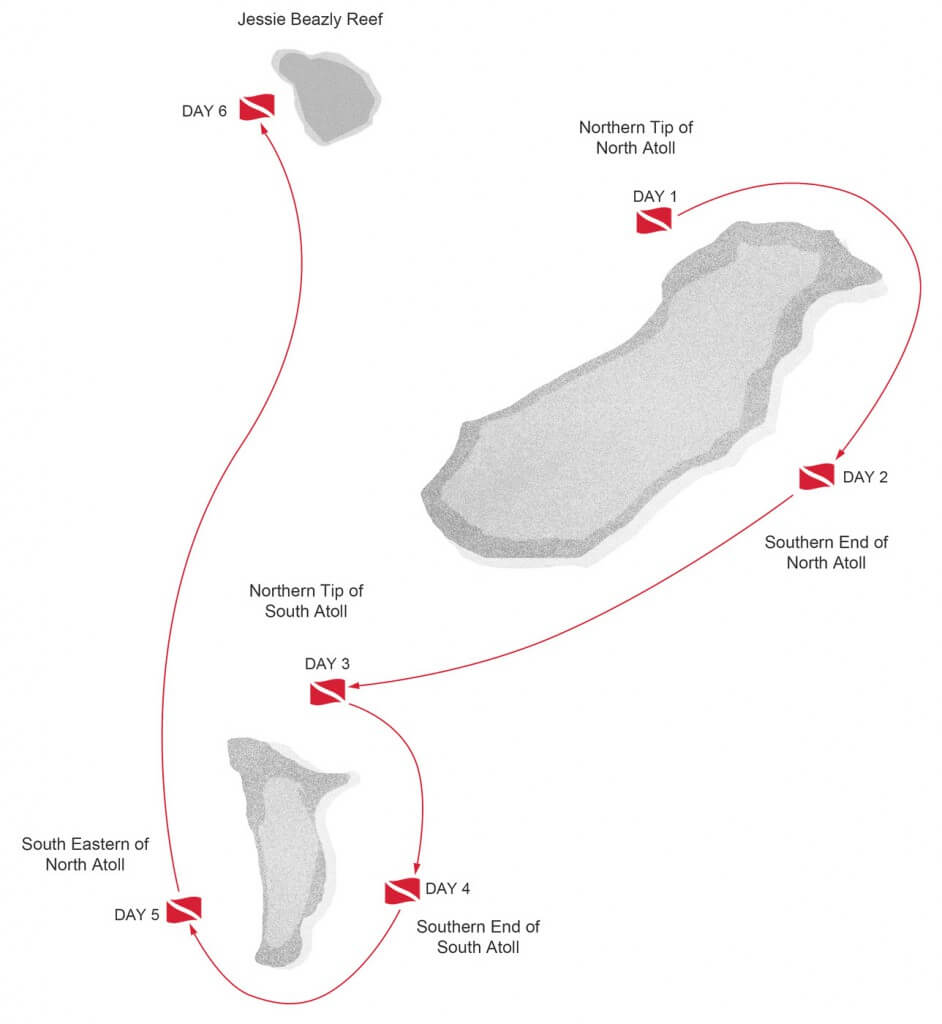 Northern Tip of North Atoll
Fissures and crevices lead into it where nurse and whitetip reef sharks can be found resting during the day. Small manta rays, stingrays and spotted eagle rays, together with numerous turtles have all been spotted. The wall has huge gorgonian fan corals, soft corals and barrel sponges. Blacktip, whitetip and grey reef sharks can normally be seen patrolling here in numbers.
Southern End of North Atoll
Malayan, Wallstreet and Amos Rock are the pick of the dive sites. Fans and macro will enjoy these sites with Denise pygmy seahorses clinging to the sea fans. See scorpion fish, moray eels and even ghost pipefish. Don't worry pelagic fans, you can still see huge dogtooth tuna, sharks and spanish mackerel in the blue.
Northern Tip of South Atoll
Highlights include Black Rock, T Wreck and Eiger Wall. You will lose count of the number of green and hawksbill turtles in the area. Look out for marble stingrays in the sand. Eagle rays often cruise by and expect to see large grouper and giant trevally.
Southern End of South Atoll
This area is known for its lighthouse and is home to famous divesites Delsan Wreck and Black Rock. Hammerheads are the most prized sighting here as well as occasional whale sharks passing by. Look out for guitar sharks in the shallows.
Jessie Beazley Reef
The charter finishes with a couple of dives at Jessie Beazley Reef. You can see schools of bumphead parrotfish munching on the corals. Watch out for inquisitive napoleon wrasse. The shallow reefs are full of colorful tropical fish like the regal angelfish and titan triggerfish.
Southern End of North Atoll
The dive starts on a gentle slope that is covered in superb unmolested corals and ends with a wall covered with dramatic gorgonian fans where sharp eyed divers can often spot pygmy seahorses. If there's current, you'll come across a wide variety of large fish, including narrow-barred spanish mackerel, giant trevally, red snapper, napoleon wrasse and giant groupers.
You're almost certain to see whitetip and grey reef sharks. Look out for manta rays, spotted eagle rays and both green and hawksbill turtles closer to the surface. Other fish that can be seen include rainbow runners, african pompano, angel fish, leaf scorpion fish, fire dart fish and down deeper, decorated dart fish.
Cancellation Policy
We highly recommend trip cancellation insurance for unforeseen circumstances, as your trip is non-refundable. All deposits and interim payments are automatically non-refundable. In the event you need to cancel every effort will be made to fill your spot. If we are able to fill your spot a full refund will be issued.